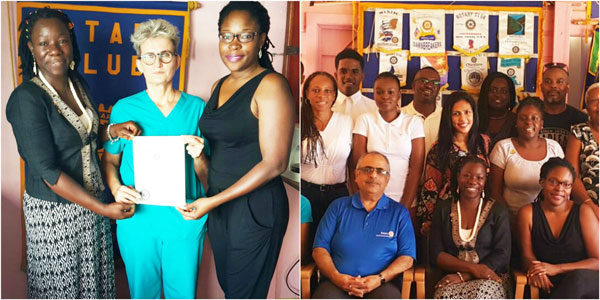 PHILIPSBURG:--- The Rotary Club of St.Martin Sunrise had the privilege of hearing presentations from two prominent figures in the community, Dr. Yelen George, and Drs. Joseph Okon, during their meeting, conducted on Tuesday 2nd August 2016.
Dr. Yelen George is the leading anesthesiologist on the Dutch side of St. Maarten. Born on April 9, 1962, in Perm, Russia , she graduated with an MD in 1987, Ukraine. She defended her Ph.D. in Anesthesiology and Intensive care, from one of the leading Medical Institution in Russia: The Schenov Moscow Medical Academy in 1996. There was a packed house as she spoke about her responsibilities at the hospital and her work including Operating Room, Emergency Room, Intensive Care, and Air Transport of the critically ill patients. She also serves as the vice president of the Medical Staff Board and the chairperson of some of the committees at the hospital. During questions and answers, she shared with the club and its guests about the different types of anesthesia and when they are used and on what circumstances with certain patients. Some of the myths and misconceptions that people have about anesthesia and its effects on the body were clarified.
In addition, Dr. George is the preceptor of AUC and in her words" being preceptor affords me the opportunity to keep abreast with the rapidly changing concepts in the field of Anesthesia and Intensive care."
Her aim as a preceptor is to assist the student in bridging the void that often exists between the classroom and clinical practice. It is that period in the career of a doctor that determines whether she or he will be a successful professional with the urge to improve his or her skills and knowledge or loose that enthusiasm with which they first embraced the medical field.
Drs. Joseph Okon OTR has undergraduate and graduate degrees in rehabilitation and Professional Occupational Therapy. He is an occupational Therapist registered, licensed and Board Certified since 1989 till present. Having heritage from Nigeria and the Caribbean, living most of his life in different parts of the United States, he has a broader perspective on the way he sees the world.
He is an active student athlete recruiter, recruiting exceptional student-athletes to receive a scholarship to partake in student-athlete programs including Morgan State University and other major universities in the USA. His work also includes being a special Education Occupational Therapist licensed and Registered contracting with the New York State Department of Education and the Board of Education, City of New York, director of the SMOTRCF, a nonprofit Foundation for rehabilitation and habilitation, Chief Executive Officer of the. O.T. Contract services at Hospitals, Clinics, Rehabilitation facilities and Adjunct Senior Lecturer at the School of Occupational Therapy at Oshodi, Lagos State Nigeria.
At the end of the meeting, President Okama thanked both the speakers for such inspiring presentations which was met with a loud applause from the attendees.
The Rotary Club of St. Martin Sunrise meets every Tuesday at the Ginger Bread Café Restaurant, Belair Beach Hotel from 7:00AM to 8:00AM. For more information on the club visit us at sxmsunrise.org or email This email address is being protected from spambots. You need JavaScript enabled to view it.. We are also on Facebook: Rotary Club of St. Martin Sunrise.