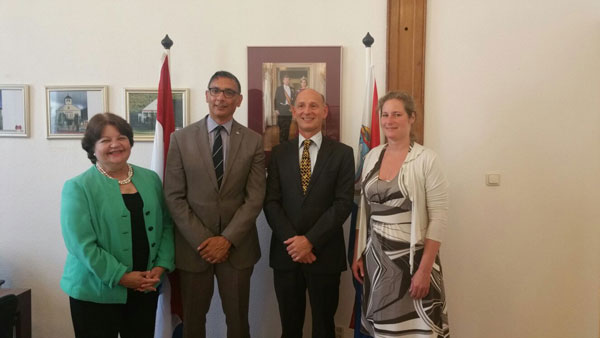 The Hague, The Netherlands, Incumbent Kingdom Ambassador the Hon. Mr. Norbert Braakhuis , well known to Sint Maarten, who was previously stationed in Havana, Cuba will be taking up his new post in Venezuela as per August 12th, visited the Cabinet of the Minister Plenipotentiary accompanied by Mrs. Jacinda Hofland from the Ministry of Foreign Affairs..
He was received by the Cabinet's Director, Perry Geerlings and acting Director of the Cabinet, Margie van Gijn. Ambassador Braakhuis is no stranger to our Island.
As a known critic of the various Dutch policies and approaches towards the Caribbean countries in the Kingdom the Ambassador enquired about the latest status of affairs in the (political) relationship between Sint Maarten and The Netherlands. Mr. Braakhuis proceeded to give a brief overview of the causes he will be championing during his four year stint in Venezuela. At the same time he took inventory of the present influences the political situation in Venezuela specifically has in Sint Maarten. His concern was also the possible safeguarding of economic interests Sint Maarteners and Sint Maarten based businesses might presently have in Venezuela.
Basically the goal is to bring about closer ties between the countries in the Dutch Caribbean and Venezuela, who because of its geographical position has influence within the region. In the vision of the Ambassador the Kingdom policy towards Venezuela should be more of a Neighbourhood Policy next to or separated from the EU neighbourhood policy. This because Venezuela is considered to be a foreign neighbour of The Kingdom and more in particular The Netherlands.
Notwithstanding the economic crisis now being faced in Venezuela, the Ambassador is of the opinion that during his tenure much can and will be achieved. An important area he wishes to work on is the making and implementation of policies that will reflect the entire Kingdom participation at all Dutch Embassies throughout the region. In light hereof, Mr. Geerlings suggested to convene periodical meetings between the Kingdom Ambassadors in the region and the Three Caribbean countries of the Kingdom. A suggestion well received by mr. Braakhuis.
On the suggestion of Mr. Geerlings, Mr. Braakhuis wishes to look keenly into the area of introducing durable agricultural practices, through Public- Private –Participation.
The Director, during the meeting emphasised the need for enhancing the relationships within the region, where this could be made possible through diplomatic contacts through the various Dutch Embassies throughout the region.
At the conclusion of the meeting the Director and all present in the meeting wished the Ambassador well in his new endeavour and reiterated the willingness of Sint Maarten to render assistance in the gathering and dissemination of relevant information, whilst the Ambassador assured us to be visiting Sint Maarten very soon again.