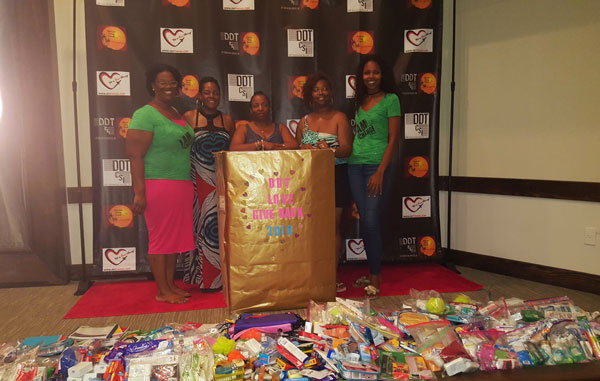 GREAT BAY:--- On Sunday July 17, the Be The Change and White & Yellow Cross Foundations received an array of generous donations from an American based travel group visiting St. Maarten this summer.
Dancin' Doug Travel Contracting Services Inc. (DDT-CSI) is currently on island with a group of some 375 travelers, each of whom brought donation items with them from the US to present to local non-profit organizations through their "Love Give Back" program. The massive amount of donations received included toiletry items such as toothpaste, feminine hygiene products, soap and much more. These items were donated to the White & Yellow Cross Foundation's Community Pantry, which carefully identifies individuals and households that are in dire need of basic necessities, such as food and toiletry items, and aims to provide them with a basket of goods every other month.
The travelers also brought with them various school supplies such as notebooks, crayons, pencils and book bags, which will be donated to the I Too Can Learn Foundation in Dutch Quarter just in time for the new 2016-2017 school year.
Be The Change Foundation was also the recipient of a spontaneous USD $1000 donation from the DDT travel group during their Black & Gold Masquerade Ball at the Sonesta Great Bay Hotel. President of Be The Change Melanie Choisy expressed her appreciation and surprise for the travel group's endless generosity, "Considering that we're witnessing a lot of negativity and hate around the world these days, it's comforting to know that alongside relaxing and escaping, you would be so kind to think of giving back to our little island."