Number of Patients in Dominican Republic thrown out of hotels --- due to non-payment.
PHILIPSBURG:--- Several patients that were sent overseas last week and into the weekend were left empty handed since SZV failed to transfer their daily allowances to their accounts.
Some of the patients made posts on Facebook about their predicament, while a few contacted SMN News claiming that their dues are taken out on time from their salaries but each time they have to travel overseas for medical treatment they are left empty handed if not stranded because employees of SZV does not transfer their daily allowances on time.
One patient who is currently in Curacao told SMN News that she called SZV office several times on Monday and each time she is told that someone will get back to her.
SMN News contacted the Minister of Health Emil Lee who on several occasions express his concerns about proper health and patient care but yet he does nothing to ensure SZV lives up to its obligations when sending patients abroad. Minister Lee said he cannot instruct SZV on the day to day operations of the social insurance company, however, he said since taking office he ensured that SZV has written policies with the care providers in the countries they send patients to, one being COMEVA. Minister Lee told SMN News that he is offended with the statements where its states he has done nothing to improve patient care and to ensure that SZV lives up to their obligations. " I am disappointed and I do take offence to the statements that I have done nothing to improve patient care because its not true," the Minister said Monday evening.
SMN News also contacted SZV Chief Customer Officer Parveen Boertje who said that they received a number of complaints on Monday morning and they were busy investigating the matter.
Just before 3pm Monday Boerte made the following statement regarding the daily allowances.
SZV investigated the situation and regret to confirm that the daily allowance in question was not transferred before the weekend. "Our staff was already in the process of rectifying the matter when you brought this to our attention. Our international representative has been made aware of the situation and will be in contact with the patient(s) in order to provide assistance where required. The daily allowance(s) will be transferred today (Monday). We acknowledge that this is an unfortunate and undesirable situation for the patient and can assure you and her that we're doing everything in our power to rectify and assist immediately."
Another representative from SZV told SMN News that they are working with the banks on St. Maarten because they no longer issue checks to the patients but does bank transfers. The employee said some banks would take the monies deposited in the patients accounts for payments those patients are obliged to make and their accounts are in deficit.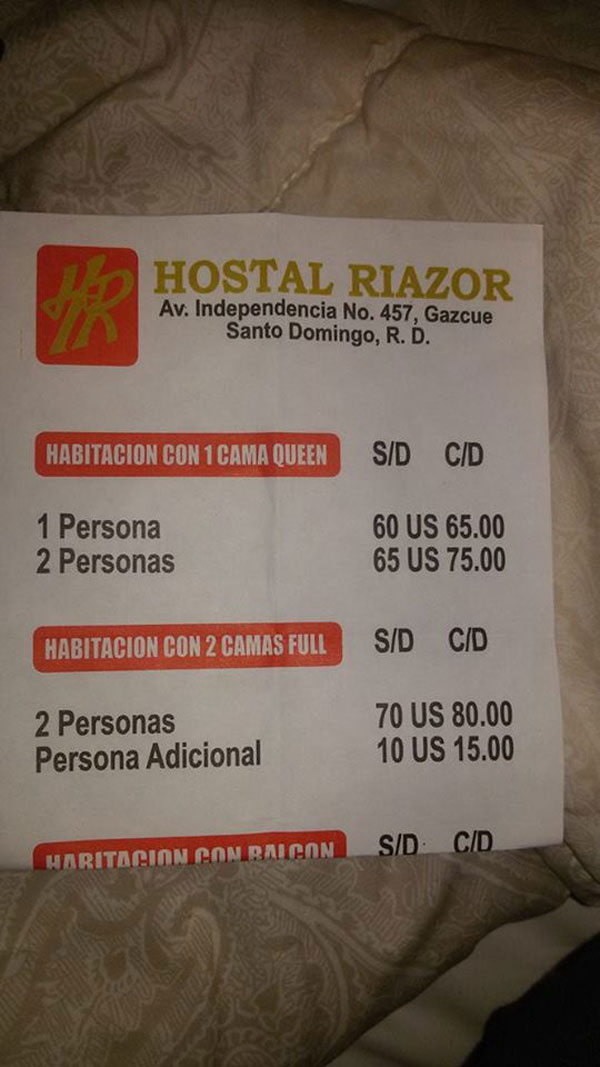 Several patients that are currently in the Dominican Republic also contacted SMN News on Monday stating that they were thrown out of the hotels that SZV recommended. One patient said that the ABCSSS representative Mr. Georgegino Locadia cannot be reached by telephone and he allegedly did not pay the three hotels SZV recommended. The patient said several patients were thrown out form Mercure Comercial Santo Domingo, Boutique Hotel Palacio and Aparta Hotel Alvear.
They said that the SZV representative put them in another hotel Hostal Riazor which is far more expensive than the other three hotels. They said the daily allowance they are getting from SZV cannot cover their expenses because of how expensive the hotel they are in now and most importantly they claim that the ABCSSS representative Georgegino Locadia is also ripping them off with the exchange rates. "SZV is giving us $25.00 per day and with the current exchange rate we are supposed to get 9,200 pesos per week but Locadia is giving each patient 9000 pesos. The patients said that by Tuesday if SZV does not regulate the problems they are facing they intend to call in the National Police in the Dominican Republic since they personally cannot reach Locadia by telephone.