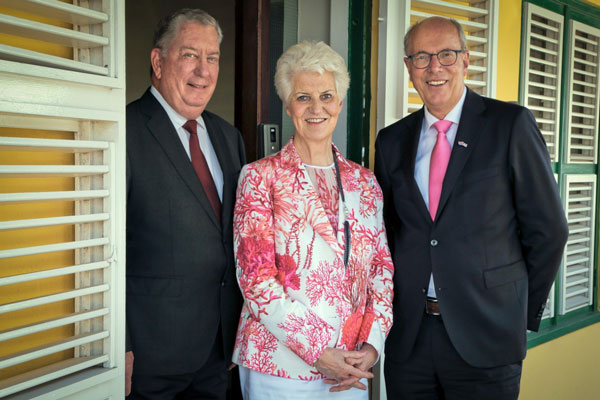 Oranjestad:--- During a visit to Aruba on June 22 and 23, 2016, the Board of financial supervision Aruba (CAft) concluded that the budget implementation is more or less on track concerning the statutory deficit limit of 2.0% of GDP. The Board stressed that the budget still includes financial risks, reason why it will be closely monitored the remainder of the year. The CAft will further analyze the budgetary implications of the reopening of the refinery as soon as the necessary information is obtained. In order to ensure sustainable public finances the CAft recommends to maximize the availability fees for Public Private Partnership (PPP) projects to up to 1.5-2.0% of public expenditures.
First 2016 quarterly results
During its visit the CAft met with the Governor, the Minister of Finance and his staff, the Council of Ministers and the Financial Parliamentary Committee of Aruba. In these consultations the main subjects were the budget implementation over 2016 and the financial and economic impact of the forthcoming reopening of the oil refinery. It was agreed that in the short term the budget implications will be processed in a multi-year budget amendment. The budget amendment is in line with the intention to publish the long-term effects of the reopening of the refinery in a Semi-Annual Memorandum. The Semi-Annual Memorandum enables the CAft to monitor timely if and how Aruba will stay under the maximum deficit limit of 2.0% of GDP for 2016 by the end of the year, as it is established in the National Ordinance on temporary financial supervision (LAft).
PPP projects can contribute to the strengthening of the public infrastructure, but because of their very nature they significantly consume future public resources. In order to balance public finances in a sustainable way, it is therefore necessary, in line with international best practices, to cap the use of availability fees. To that end the Board recommends to maintain for the long term availability fees for PPP projects a maximum amount of 1.5-2.0% of the collective public expenditures. This standard keeps the expenses for the Green Corridor, Watty Vos, Dr. Horacio E. Oduber Hospital and Infrastructure building DOW just within the norm, leaving no room for new PPP projects.
Challenges
The financial risks which the CAft is signaling, require strict monitoring throughout the year. In particular the CAft will closely monitor the underlying support of the income increase. In addition, the personnel expenses of Aruba remain of concern for the CAft. In its response to the implementation report, the CAft already observed that a backlog in the schedule of proposed savings in personnel expenses constitutes a substantial risk for the attainment of long term sustainable public finances.
The Board emphasizes that for the short term it is important to timely present the 2016 budget amendment, which will include the financial implications of the reopening of the oil refinery.