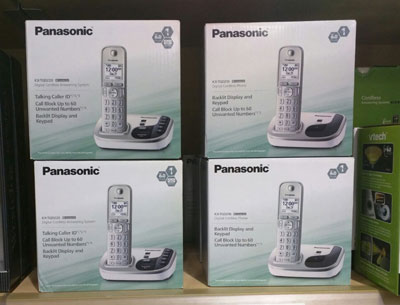 PHILIPSBURG:--- In the second week of June Technicians of Bureau Telecommunications and Post St. Maarten (BTP) performed regular inspections, whereby it was discovered that a large business establishment on St. Maarten is illegally selling Digital Enhanced Cordless Telecommunications (DECT) phones to St. Maarten/St. Martin residents.
The sale and use of DECT phones is in direct violation of St. Maarten Telecom laws, as it causes disruption and performance issues to Mobile phone networks. While the process of confiscation of the DECT Phones is now being prepared, and measures being taken against this particular business owner, Bureau Telecommunications and Post St. Maarten hereby again would like to remind the retailers and residents of St. Maarten that the following devices are not in compliance with the rules and regulations concerning the import and sale of wireless electronic communication devices on St. Maarten:
DECT Phones operating in the 1800, 1900 and 2100MHz band
Cordless phones operating in the 900 and 1800MHz band
Cellular range extenders/ repeaters/ Cellular blockers
WIFI boosters/range extenders
Long range WIFI systems
If caught selling, distributing, owning or operating such device(s) it will be confiscated and the person or entity will be fined based on the Telecommunication act of 1995 No.196 art.15 sub1.and art. 20, which carry a penalty of maximum of six (6) months imprisonment or an administrative fine of Twenty Five Thousand Guilders (Naf. 25.000).
BTP also announced that, by making use of advanced measurement equipment, inspections in the different neighborhoods will be performed to track and trace users of illegal DECT phones. Director of BTP, Mr. Anthony Carty, stated: "BTP will remain committed to combat all issues that form a threat to Telecom services on St. Maarten. Inspections at both business establishments and residential areas, and consequently the confiscation of illegal devices, is a necessity for an interference free Mobile network. Our objective is to make Telecom services on the island better to all, and in this case it means that we have to put an immediate halt to the sale and use of all illegal wireless communication devices on the island".
More detailed information on allowed and prohibited communication devices to be found on the website of the regulator: www.sxmregulator.sx
BTP SXM Press Release