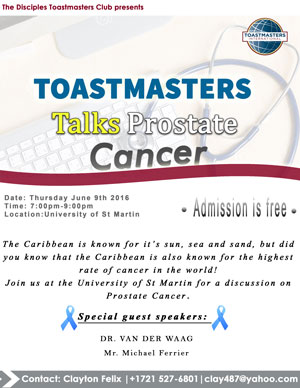 Cul de Sac:--- Disciples Toastmasters Club will be hosting an information session on prostate cancer at the University of St. Martin on Thursday, June 9, 2016 from 7:00pm until 9:00pm.
This information session will highlight the high rate of prostate cancer in the Americas and the Caribbean, in particular. It will also outline how prostate cancer is treated when diagnosed early.
The main speakers for the evening will be Dr. Van der Wag and Mr. Michael Ferrier, the latter of whom is a prostate cancer survivor. The audience will be able to ask questions.
The event is free of charge and the general public is urged to attend this very important information session. The event moderator will be Distinguished Toastmaster (DTM) Mr. Rolando Tobias.