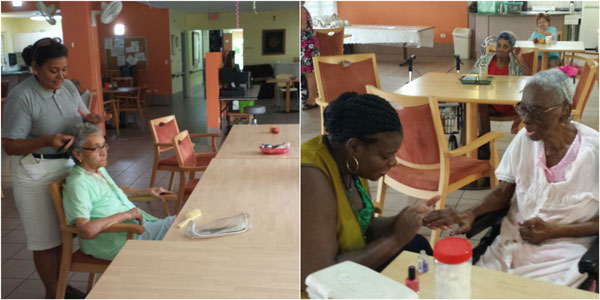 PHILIPSBURG:---- St. Maarten Tzu Chi Foundation is seeking volunteers for its once monthly visits to the St. Martin's Home, where the elderly residents are pampered and shown love and affection.
During their monthly visits, Tzu Chi volunteers give the residents what the foundation calls a "royal treatment" which consists of comforting shoulder, hand and leg massages; interactive conversations; minor exercise movements to help the seniors keep their bodies supple and changing the nail polish of the ladies, amongst other things.
Occasionally, volunteers would also perform skits and sign language songs for the entertainment and enjoyment of the seniors. On special occasions such as New Years Day, volunteers take gifts and cake to the Home for the seniors and host an extended program for their entertainment.
Visiting the St. Martin's Home has grown into a tradition for the Tzu Chi Foundation, whose volunteers has been visiting the Home to pamper the seniors for more than ten years. "The foundation believes in caring for those persons who have already toiled and worked hard in their younger years," said Tzu Chi Foundation St. Maarten founder and Commissioner Sandra Cheung.
A total of about four volunteers went to the Home during their most recent visit on Sunday, May 29, and enjoyed an afternoon of interacting with the elderly and treating them to various things geared toward their comfort, mobility and mental health.
Tzu Chi is now seeking volunteers to help continue the rewarding work of catering to the country's seniors. The visits to the Home are done the last Sunday of each month from around 4:00pm and lasts between one to two hours.
Cheung said giving of one's time to help others is a very rewarding experience and she urges persons interested in joining Tzu Chi on its monthly visit to contact Tzu Chi at tel. 586-3019.