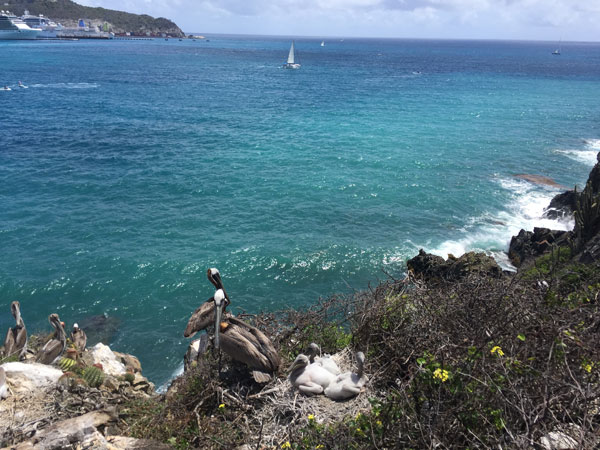 Reiterates Call for Further Investment in Birding Tourism
PHILIPSBURG:--- The St. Maarten Nature Foundation recently concluded its annual Pelican Monitoring Project where it focused on the nesting and breeding sites of the National Bird. The Brown Pelican (Pelecanus occidentalis) is one of St. Maarten's national symbols, the depiction of which can be found on the island's Flag and Coat of Arms. Despite this there was previously very little information publicly available on the status of Pelicans on St. Maarten. The Nature Foundation therefore decided that in order to properly conserve and manage this culturally and ecologically important species there was a need to collect vital information on nesting areas, how many pelicans we still have left, and what type of threats the bird faces. Results have shown that despite the pelican population severely decreasing over the last few decades, conservation measures seem to indicate that the bird might be recovering.
At the primary nesting location located at Fort Amsterdam numerous nests with both young chicks and fledgling young were counted. Numerous adults were also counted and added to the Dutch Caribbean Nature Database. "One of our major activities is managing the breeding population of sea birds but especially pelicans on the island, considering not only their ecological but also their cultural significance. We were happy to see numerous breeding locations in especially Fort Amsterdam which of course gives it an additional cultural dimension. We would also like to thank Divi Little Bay Resort for placing warning signs at the breeding locations warning people to stay away from breeding locations," commented Tadzio Bervoets of the Nature Foundation.
Popular North American General Interest Magazine Reader's Digest recently named St. Maarten as one of the Top Ten destinations in the Caribbean for Bird-Tourism. The magazine highlighted Sint Maarten as a "A hot spot for migrating sea birds with a burgeoning bird watching scene". Specific mention was also given to the National Bird of St. Maarten, the Brown Pelican.
The Nature Foundation often responds to incidents where pelicans are caught in fishing line or hooks, fishing nets, plastic bags, or soda can holders. "Considering the significant pressure on these animals despite an increase in population it is very important that we not only take the importance of birds to our island's ecology and culture into account but also acknowledge the importance they are for Sint Maarten as a tourism product. Birding tourism is a very large business and with news of challenges in the tourism industry the Nature Encourages stakeholders to look into Birding Tourism as a significant boost to our Tourism Product. And we can only successfully offer Birding Tourism if the animals can exist in a safe and clean environment without them or their habitat being severely threatened," concluded Bervoets.