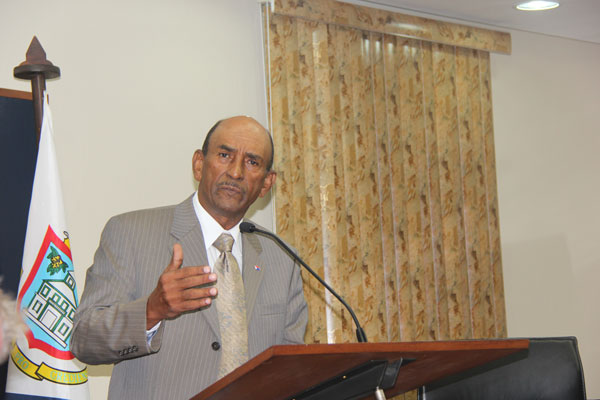 Scale five civil servants and under will get Naf. 250 for Christmas --- Number plates legislation has to be amended.
PHILIPSBURG:--- Minister of Finance Richard Gibson Sr. plans to give scale five civil servants and under a small compensation of NAF.250.00 for the holidays even though St. Maarten is in a financial crisis.. Minister Gibson also put to rest the rumors that claim that he plans to cut the vacation allowances for civil servants.
Minister Richard Gibson Sr. laid out the stark reality of the country's financial status on Wednesday when he said that since St. Maarten became a country in 2010 they have built up a debt of NAF. 200M. The finance Minister said that since 2010 St. Maarten never had a balanced budget and did not pay its SZV premiums which amounts to NAF 70M while another NAF. 80M has to be paid to the pension fund APS. He said St. Maarten was given an instruction to clear up its debts within a period of three years starting 2016, besides that St. Maarten has to also starting paying back its share of debt relief starting September 2016, that he said amounts to NAF26M. Gibson. He said the country can no longer do business as usual and advised all Ministries to conduct monthly financial controls in order to keep a tab on their spending. Gibson said the current financial situation is like climbing a high mountain, therefore measures have to be taken to curb the financial situation on St. Maarten, and therefore, people would have to really 'bite the bullet'. Gibson made clear that there is no popularity contest on St. Maarten at this moment but measures have to be taken to 'keep the house in order and buck indeed has stopped.' Another stark reality the finance Minister revealed on Wednesday is that the country do not have any liquidity and that they have come to the 'rock bottom.' Gibson said earlier this week he had to sign off on an overdraft for the country to tune of NAF. 5M which will take the country to the end of January 2015.
The Minister of Finance said he met with the CFT and held an open and frank discussion with them while he is busy seeking ways and means to overcome the country's financial challenges.
Number Plates Legislation has to be amended --- Will be placed on hold until the amendments are made.
While St. Maarten is in the red the Minister of Finance gave notice on Wednesday that he does not intend to go along with the legislation sent to parliament by the former government for the increase on vehicle number plates. Minister Gibson said the legislation sent to Parliament is very much unfair to the people since the increase is across the board. He however, intends to place the legislation on hold until the legislation is fully amended in order to deal with the social ills of the country. "The current legislation that is at Parliament is for an increase across the board, I do not believe that is fair, because why do the people driving small vehicles should have to pay the same as those driving large SUV's? I intend to amend this legislation and do things right. Persons that are driving expensive vehicles must pay more than those persons driving around in smaller vehicles."