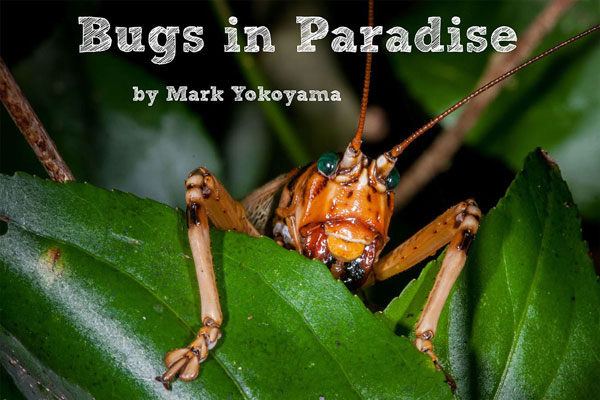 St. Martin–Residents and visitors of all ages are invited to enjoy a morning of wildlife-themed entertainment and exploration this Sunday at Birds & Bugs 2015. The event will take place on December 6th from 9am to noon at Loterie Farm on Pic Paradis, rain or shine. Birds & Bugs is a free, public Wildlife Discovery Event, created by Les Fruits de Mer for locals and tourists alike to get to know the captivating creatures and birds that make their home in the forest.
Sunday's event will offer a full array of free, fun activities designed and led by naturalists, scientists, educators, and other local wildlife specialists. "It's the perfect chance to learn about this island's fantastic forest life from experts," says Les Fruits de Mer President Jennifer Yerkes. "We'd like to welcome everyone to come out and have a great time!"
Event-goers will learn to spot songbirds, hummingbirds, and other forest-dwelling avians on bird tours of the forest, led by professional birding guide Binkie van Es. Tours will leave regularly throughout the event and will be available in French, English, and Dutch. Attendees who plan to go on a birding tour are recommended to bring sturdy shoes. Binoculars will be available for sharing on the tours.
This year's attendees will be offered a truly unique experience at Environmental Protection in the Caribbean (EPIC)'s Bird Banding Station–to see wildlife research in action, and some hard-to-find birds in person. Bird Banding Station visitors will have the rare opportunity to watch EPIC's key bird researchers as they capture, study, and release birds as part of their 15-year bird banding effort on the slopes of Pic Paradis. EPIC President Natalia Collier and EPIC Senior Biologist Adam Brown will be on site to share what they've learned about the songbird populations in this special broadleaf forest habitat.
Guests can find out more about the birds of the broadleaf forest at the Bird Education Station hosted by EPIC Environmental Educator Laura Bijnsdorp. This Station will feature hands-on exhibits of birds for kids and adults, info about the resident and migratory birds of St. Martin and the habitat they call home, and a fun Bird Bingo game with prizes for children. Bird-related paraphernalia will also be available there, for event attendees looking for an early holiday gift.
The Bug Discovery Station will give adults and kids an unforgettable up-close look at a variety of the island's insects, spiders and other invertebrates. Live insects will be on display, and guests will learn about their life cycles and other intriguing info about these small animals and their role in the local ecosystem. A "What Am I" microscope bug ID game will join other exciting new interactive exhibits at the Discovery Station this year.
Club Gaïac, Les Fruits de Mer's ongoing heritage tree project, will also be at Sunday's event with a free giveaway of special seed kits and a new experiment that everyone can take part in. The Club Gaïac table will have displays where guests can learn about the history and ecology of this beautiful endangered tree, and find out how replanting native trees can help St. Martin's birds and bugs.
People of all ages can participate in creative activities inspired by local wildlife, including coloring, sketching, and a craft. Younger kids will enjoy coloring and activity pages designed by local artists featuring island animals. In the event's Build-A-Bug craft, children and adults can create their own insect from natural materials and transform it into a clip, magnet, or mobile to take home.
Les Fruits de Mer have released a free ebook for kids, Bugs in Paradise, to promote Sunday's event. The ebook features full-color photos of the incredible insects found in the forest habitats of Pic Paradis, and entertains young readers with fascinating facts about each species in rhyming text. The ebook can be downloaded for free at http://www.lesfruitsdemer.com/resources/books/.
For more information about Birds & Bugs, visit http://www.lesfruitsdemer.com/events/birds-bugs/ or https://www.facebook.com/events/482567428570505/.
Birds & Bugs 2015 is a co-production of the Les Fruits de Mer Association, EPIC, and Loterie Farm. The event is made possible by the hard work and talent of many volunteers, and the generous sponsorship of Buccaneer Beach Bar, Delta Petroleum, Hotel L'Esplanade, Island Mattress, St. Martin Voyages and Tri-Sport.