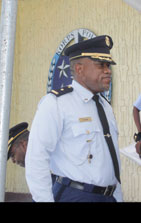 Denise Jacob loses the battle.
PHILIPSBURG:--- Deputy Chief Commissioner of Police Carl John has been selected to take up the seat as Chief Commissioner of Police at KPSM. SMN News has been reliably informed that John was selected out of the three candidates that applied for the position. According to well placed sources an advice was sent to the Minister of Justice Dennis Richardson who have approved the advice, while Solicitor General Taco Stein also has to give an advice prior to the screening process before Deputy Chief Commissioner of Police Carl John is appointed Chief Commissioner of Police for KPSM.
Carl John joined the police academy of Curacao in 1985, he had 18 months of training before becoming a constable. John worked in Curacao as a regular police constable from 1987 to 1992; he returned to St. Maarten in 1992 and worked for the former Police Force of the Netherlands Antilles. Carl John then returned to Curacao in 1995 where he worked just for a few months before returning to St. Maarten after hurricane Luis struck the island. In the same year 1995 John returned to Curacao where he worked until 2003 then he came back to St. Maarten and stayed here until now. When John returned in 2003 he was appointed head of the internal affairs of the Police Department, then in 2005 he was appointed head of the Uniform Division of Philipsburg until 2010 when he was appointed Commissioner of Police and Deputy Chief Commissioner of Police by former Minister of Justice Magali Jacoba.
Ever since his appointment as Commissioner of Police John has completed a number of courses that qualifies him to become the next local Chief Commissioner of Police. It is expected that if all goes well Carl John will be appointed to his new post before the end of 2014, while Chief Commissioner of Police Peter de Witte will depart from the Police Force to take up another position in the Justice Ministry early 2015. The second candidate that applied for the position is the head of the detective department Denise Jacob who obviously lost to John along with the third candidate that hails from the Netherlands.