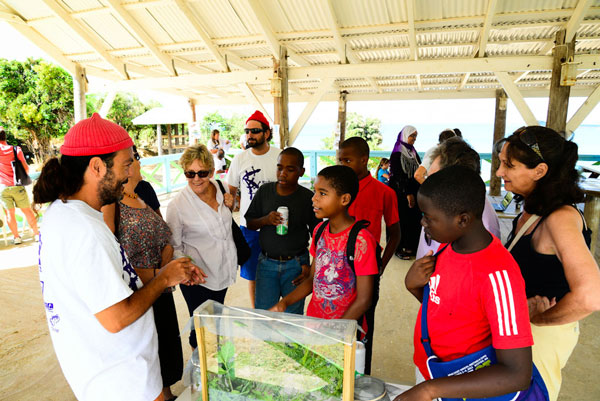 GRAND CASE, St. Martin:--- Over 200 people came out to Seaside Nature Park in Cay Bay for a sunny day of wildlife discovery, fun and learning at the first annual Endemic Animal Festival this past Sunday. The first-ever event of its kind on the island, the Festival was established to celebrate the most unique part of St. Martin's natural heritage–its extraordinary local and regional endemics, which are the animals that live only on our island or only in our region. The free, public event was created for both residents and tourists by the Les Fruits de Mer Association, and is the second of four Wildlife Discovery Events the Association will host in 2014.
"We're absolutely thrilled that so many people came to have fun and find out about the wildlife that makes this island so special," said Les Fruits de Mer President Jenn Yerkes, "And we certainly had a gorgeous day for it!" Most of the Festival activities took place in the shade of the Park's breezy event space. Individual posters of over 30 species endemic to this area transformed it into an open-air exhibition, which showcased some of the many locally endemic species and told the story of why there are so many animals that are unique to our island and the region.
People of all ages crowded around the Endemic Animal Discovery Station hosted by naturalist Mark Yokoyama to marvel at live displays of endemic animals including Bearded Anoles, Walking Sticks, and many others. "The Dwarf Geckos were definitely a big hit, especially one carrying a large egg that you could see through its skin!" reported Yokoyama, Les Fruits de Mer co-founder and author of The Incomplete Guide to the Wildlife of Saint Martin. Yokoyama gave short mini-presentations about island endemics and their role in history as well as showing visitors the various captivating creatures on display. Fascinated guests also took turns letting a friendly stick insect walk on their hands and arms.
Festival-goers flocked to special exhibits that were part of BirdsCaribbean's Caribbean Endemic Bird Festival as well, including a video spotlighting our island's vibrant birdlife. Adults and kids alike discovered how the jobs done by regionally endemic birds–as pollinators, seed spreaders, cleaners and more–help both humans and nature.
Attendees had a unique opportunity to learn about endemic wildlife on the go during the event's Guided Nature Walks, which brought them face-to-face with regionally endemic birds and lizards found only on St. Martin. Participants found out how to spot these special species on future outings, and enjoyed some of the spectacular sea views offered by Seaside Nature Park's trails. The Walks were led by professional birding guide Binkie van Es and local wildlife enthusiast Dr. Jovan Halley from the Healthy Iguana veterinary practice.
The tables at the Festival's Art Activity Station were constantly buzzing with children busy taking part in wildlife-themed creative activities led by eco-artist Stephen Winkel and a team of Les Fruits de Mer volunteers, including coloring and imagination pages featuring endemic animals. Over 40 kids created festive reptilian masks during the event's Endemic Lizard Mask-making Workshop, designed to link learning about local wildlife with the cultural tradition of Carnival. "Art and culture can make the best path for some kids to connect with nature and ecologic concepts," explained Winkel. "For example, here we have fun making a mask for Carnival, but it is also a way to talk about what is endemic, learn which lizards live only on this island, and look at their different coloration." Young festival-goers also enjoyed the on-site playground, seeing the horses, and interacting with the ducks and other small animals at Seaside Nature Park.
Guests cooled off with free Fiji Water, Steaz iced tea, and Vita Coco coconut water at the Festival's Hydration Station, sponsored by International Liquor and Tobacco Trading, and gift certificates to thank volunteers were donated by The Scuba Shop.
"We're happy that so many people came out to enjoy the first Endemic Animal Festival–and I'd like to congratulate all our fantastic volunteers for making it such a success. This couldn't have happened without their dedication!" said Yerkes. The 2014 Endemic Animal Festival was made possible by the hard work and talent of 20 volunteers; the support of Les Fruits de Mer's event partner, Seaside Nature Park; and the generous sponsorship of Hotel L'Esplanade, Delta Petroleum, Island Water World, Aquatec Shop, Healthy Iguana, TelEm Group, Caribbean Paddling and AquaMania Adventures, with in-kind contributions from International Liquor and Tobacco Trading and The Scuba Shop. The Endemic Animal Festival is a proud participant in BirdsCaribbean's Caribbean Endemic Bird Festival, which includes events throughout the Caribbean.