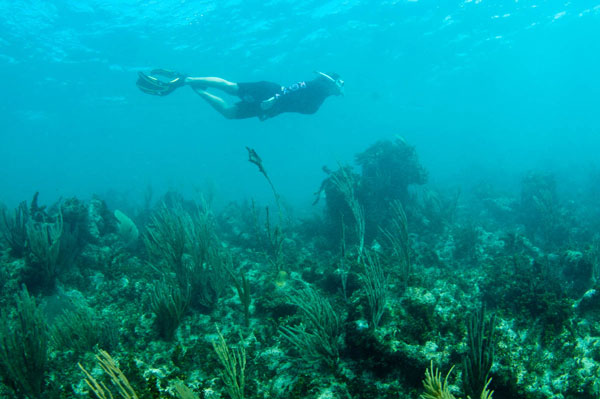 GRAND CASE:--- Residents and visitors of all ages are invited to experience the magic of undersea life and the sport, art, and science of snorkeling this Saturday at SnorkelFest 2014. SnorkelFest is a free, public Wildlife Discovery Event created by Les Fruits de Mer, which will take place on January 25 from 11am to 3pm on Pinel Island.
The event will feature activities designed and lead by marine biologists, educators, conservationists, and other aficionados of the flora and fauna of the sea and coast. "The undersea world is one of the most dynamic and fascinating parts of this island, and snorkeling is an easy way to discover it. Plus, a day trip to Pinel is one of the most fun things to do on St. Martin, and SnorkelFest will make it even more fun and educational." says Les Fruits de Mer President Jenn Yerkes. "We'd like to welcome everyone to come out and enjoy the day on this gorgeous little islet!"
SnorkelFest guests can take a peek at protected undersea plant and animal life with free snorkeling on the Réserve Naturelle's special underwater trail, a captivating tropical seascape of turquoise water, waving sea grass, hard and soft corals, sea fans, bright fish, and camouflaged crustaceans. Attendees are encouraged to bring their own snorkeling gear. For those who don't have their own equipment, some will be available for free at ECOSNORKELING, marine biologist Isabelle Bonnefoy's environmentally-friendly snorkel center on PInel. Kids ages 7-12 will be welcome to snorkel the trail with parental supervision. For kids under age 7 with parental supervision, there will be a separate Underwater Observation Experience available in a shallow area so they can get a first glimpse under the sea.
Event-goers will also have the chance to discover the ocean in a different way by trying Stand-up Paddle Board for free, thanks to Caribbean Paddling. Attendees who RSVP on the Facebook events page at https://www.facebook.com/events/623840144329454/ or by email to This email address is being protected from spambots. You need JavaScript enabled to view it. by Friday, January 24 will have priority access for both the free snorkeling and free paddleboard activities.
Adults and kids can learn about both common and unusual sea creatures as well as different marine habitats at the Marine Life Discovery Station. The Station will be hosted by Mark Yokoyama, Les Fruits de Mer co-founder and author of The Incomplete Guide to the Wildlife of St. Martin. Teachers and a marine biologist will also be on deck to share knowledge and answer questions. Displays and materials created by Yokoyama and the Réserve Naturelle de Saint-Martin will use stories and images to "tell tales from the deep and the shallow seas," according to Yokoyama. "Come here to get to know more about your underwater neighbors, from interesting species to interesting facts about species you may see all the time." Yokoyama will be focusing on certain fish, invertebrates, and corals as a way to explain different underwater ecosystems. Attendees can also bring their own underwater photos of sea creatures for an ID at the Marine Life Discovery Station's "ID Me" activity. Books will be available so participants can identify the fish, corals, and crustaceans they observed while snorkeling.
"SnorkelFest is really a unique opportunity to learn about marine and coastal life and the island's important ecosystems from experts," explains Les Fruits de Mer President Jenn Yerkes, "The Marine Life Discovery Station and Guided Coastal Walk are perfect examples of that."
The Guided Coastal Walk offers event-goers the chance to learn about the unique coastal environment on a guided tour of some of Pinel's nature trails. The nature trails, created by the Réserve Naturelle, connect the three beaches of the tiny islet, and provide stunning views of nearby islands and islets. Information panels and displays along the pathways describe local flora and birds for visitors. This activity was designed to illuminate coastal life, and also showcase these terrestrial trails for locals and tourists, especially for those who don't already know about them. Tours will be guided by Béatrice Galdi, an environmental engineer specializing in the protection and management of the natural environment. She represents the Conservatoire du Littoral, an institution responsible for protecting coastal spaces, in St. Martin and St. Barths, Tours will leave regularly throughout the event and will be available in English and French. The tours will each conclude with an optional short clean-up on one of the beautiful wild beaches on the Atlantic side of Pinel.
Kids of all ages can participate in art activities inspired by the ocean, including coloring and activity pages featuring local undersea wildlife.
Attendees can get to Pinel by ferry or kayak. The ferry picks up passengers at the dock in French Cul-de-Sac and costs $10 or 10 Euro per person. Kayaking to Pinel with Caribbean Paddling is a sporty alternative, but attendees who want to kayak to SnorkelFest should probably reserve ahead of time on caribbeanpaddling.com. SnorkelFest event-goers should bring snorkeling gear if they have it, sun protection like a rash guard or t-shirt, shoes, sandals, or flip-flops if they plan to go on the Guided Coastal Walk. They can also pack a picnic, or enjoy lunch at one of the two great restaurants on Pinel, Karibuni and Yellow Beach.
SnorkelFest 2014 is made possible by the hard work and talent of many volunteers; the support of Les Fruits de Mer's event partners, the Réserve Naturelle de Saint-Martin, the Conservatoire du Littoral, ECOSNORKELING and Caribbean Paddling; and the generous sponsorship of Island Water World, Yacht Club Port de Plaisance, Delta Petroleum, The Summit Resort Hotel, Karibuni and Yellow Beach.