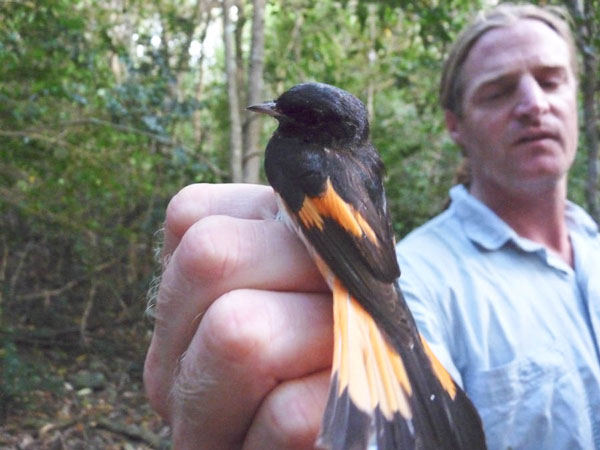 GRAND CASE:--- Naturalists, ecologists, birdwatchers, artists, and other volunteers all over the island are working together to make the first annual Birds & Bugs event a very special day for everyone. Birds & Bugs is a free, public Wildlife Discovery Event created by Les Fruits de Mer, where St. Martin residents and visitors of all ages are invited to see, hear, celebrate, and learn about the amazing birds and bugs living in the broadleaf forest. The event will include guided birding tours, a bird education station, a bug discovery station, and local wildlife-themed art activities for children. Birds & Bugs 2013 will take place at Loterie Farm on the western slope of Pic Paradis on Saturday, December 7th from 9am to noon.
Preparations for the event are well underway. A team of wildlife experts and event coordinators conducted a test run of the birding tour at Loterie Farm this past Saturday to plan the best route for the birdwatching tour, and noted a wide variety of migratory and resident birds along the route, including hummingbirds, thrashers, redstarts, and warblers.
Local artist and Les Fruits de Mer Secretary Stephen Winkel is designing special wildlife-inspired children's art activities for the event, which will include decorating bird feeders made from calabashes.
Environmental Protection in the Caribbean (EPIC) is organizing the bird education station, where event guests will learn to recognize birds by their song. Thanks to support from the Dutch Caribbean Nature Alliance and BirdsCaribbean, there will also be children's activities including a Junior Birdwatcher journal and activity book as well as free bird stickers and tattoos. Bird identification cards and t-shirts will be available for a donation to support conservation efforts.
The location of the first Birds & Bugs event, Loterie Farm, is one of the most ecologically significant places on St. Martin. Pic Paradis is listed as an Important Bird Area (IBA), a designation provided to sites that support significant global or regional bird populations. The broadleaf forest on the western slope of Pic Paradis, including Loterie Farm, is a unique environment that is home to an extraordinary array of fascinating animal species. This habitat, with its large trees and full canopy, is both essential and breathtaking. EPIC Senior Biologist Adam Brown states, "Of all the habitats on St. Martin, this one has provided the most unique window into the life of migratory birds. This forest alone has been the location of at least seven first island records of bird species and played a significant role in the re-establishment of such resident forest species as Scaly-breasted Thrasher, Scaly-naped Pigeon, and Bridled Quail Dove. I can't imagine the island without this forest."
"The wildlife in this forest is an important part of St. Martin's natural heritage, and the Birds & Bugs event is the perfect opportunity to experience, celebrate, and learn about it!" said Mark Yokoyama, author of The Incomplete Guide to the Wildlife of St. Martin. Yokoyama will be hosting the bug discovery station, which will showcase a variety of live insects and other invertebrates from St. Martin, including walking sticks, katydids, caterpillars and spiders.
The Les Fruits de Mer Association is currently seeking additional volunteers to help out at the event, and sponsorship for event materials including art supplies for the kids' activities, t-shirts, additional binoculars, and drinking water. People interested in being involved can contact This email address is being protected from spambots. You need JavaScript enabled to view it..
Birds & Bugs 2013 is a co-production of the Les Fruits de Mer Association, EPIC, and Loterie Farm.
EPIC was founded in 2000 with the mission to protect the Caribbean environment through research and community-based action, and has conducted long-term studies on the birds of the island while working to raise awareness of bird conservation issues. EPIC biologists have partnered with Loterie Farm for over a decade to study the health and diversity of birds in this rare habitat.
Loterie Farm is a private nature reserve. The 54-hectare property includes broadleaf forest as well as the remains of historical buildings dating back to the 18th century. Loterie Farm safeguards the history and the environment while also sharing this unique site with the public. The Farm has hosted a great deal of biological research, including ongoing studies of birds and other animals. Loterie Farm offers hiking and zip-lining as well as a gourmet restaurant, lounge, and spring-fed swimming pool.
Les Fruits de Mer is a non-profit association based in St. Martin whose core mission is to raise awareness about nature, culture, and sport. The organization carries out this mission through publications, an education program, and special public outreach events that entertain, inspire, and inform. The Association is currently accepting new member applications on its website, http://ass.lesfruitsdemer.org.
For more information about Birds & Bugs 2013, visit http://ass.lesfruitsdemer.org/events/ or https://www.facebook.com/events/1427136514175790/, and visit http://www.epicislands.org to learn more about EPIC.