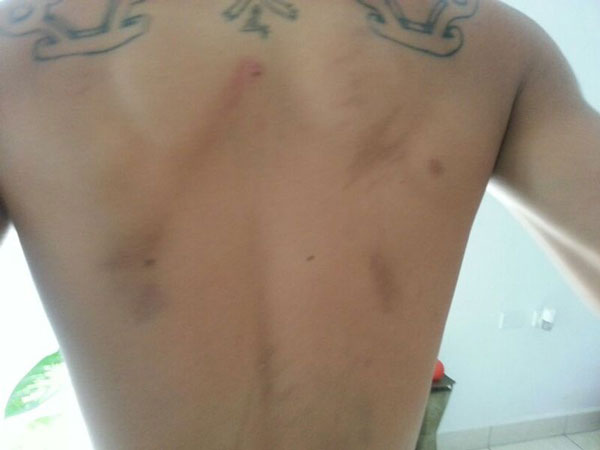 PHILIPSBURG:--- The mother of 19 year old Shakeel Martin of St. Peters vows to get justice for her son who was badly beaten by a police officer last Wednesday night in the vicinity of the Basketball court in St. Peters.
Charlyse Williams told SMN News in an exclusive interview that her son was playing with a group of boys at the basketball court around 8pm Wednesday night. She said her son was leaving the basketball court when a set of police officers rolled up next to him and told him to get off his motorcycle. "My son told me that he got off his motorcycle when the officer told him to do so and when he did one of the officers knocked him to the ground and shackled him while the another officer identified only as "Naps" start beating him." Charlyse said the officer beat her son mercilessly on the St. Peters road and the other boys began screaming at them and asked what did the young man do but the police swore indecent language at them. "After they finished giving him a good beating they arrested him and took him to Philipsburg Police Station along with his motorcycle. My son told me while on the way to the station the police officer continued to beat him and even called him a bitch. When they reached the station he slapped my son again and told him now that he is being beaten he is crying like a baby."
Charlyse said when the police reached the station they called the ambulance and the ambulance personnel cleaned her son's wounds and left him there. "The following morning my husband went to the station and the police decided they will release my son without saying why they arrested him in the first place. They said they beat him because he resisted arrest. When SMN News asked Charlyse if the police told her or her son if he was a suspect of crime or if he was wanted by police. Charlyse said her son did not commit any crime and based on what she knew her son was not wanted by police.
Charlyse claimed that the officer in question "Naps" beat a few young men in the St. Peters area and those boys plan to take the law in their own hands. But she and her family will do everything by the book to ensure that her son gets justice. Charlyse said she already filed a complaint by police internal affairs and on Monday she will go to see the Prosecutor and her lawyer. "I told my son we will seek justice because what we are hearing is this officer who came from the Netherlands was in Aruba and he did the very same thing there and Aruba sent him back to the Netherlands now he is in St. Maarten."
SMN News learnt that some of the young men who witnessed the police brutality Wednesday night went to the Philipsburg Police Station where they were threatening police officers but a senior police officer spoke to them and managed to bring the matter under control.