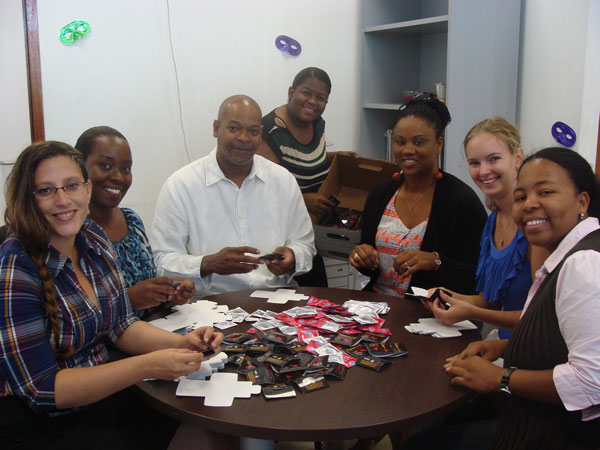 Philipsburg:--- In an effort to increase condom use and ultimately reduce the transmission of human immunodeficiency virus (HIV) infection, sexually transmitted infections (STI) and unwanted pregnancies, Minister Cornelius de Weever and the HIV/AIDS Programme Management Team (PMT) in collaboration with Red Cross and the St. Maarten AIDS Foundation has developed a condom distribution plan for the Carnival Season. The distribution plan is targeted to the general population of St. Maarten and the strategy is to give the condoms out for free making it available to all and thus encouraging condom use.
The condoms will be packaged in a box which has a catchphrase that promotes safe sex and HIV testing at the St. Maarten AIDS Foundation in Cole Bay across from Tropicana. The boxes will help protect the condom from getting damaged when in a bag or a pocket and are sturdy enough to be reused. Printing of the design was done by TRAXX Designs and are being distributed by Red Cross volunteers at the Festival Village's evening events. Make sure to get yours in order to "Cum Safely" and enjoy Carnival 2013 "Fully Protected". The PMT along with Collective Preventive Services (CPS) are busy working on a more comprehensive distribution strategy that will launch by the end of this year.
Unfortunately, we would like to apologize for the typo on the condom box concerning the contact information for St. Maarten AIDS Foundation where anyone can call to schedule an appointment for HIV testing. The correct contact information is 553-2626/588-4636.