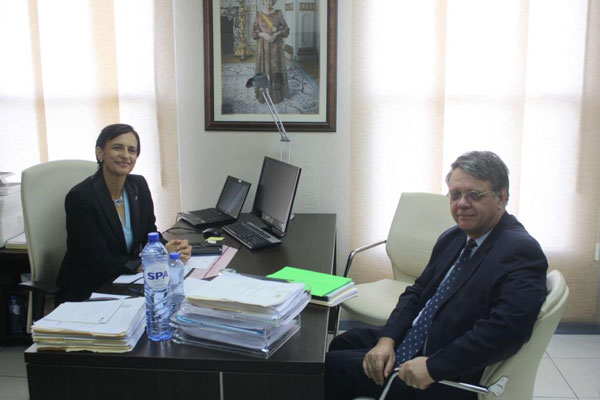 Various items regarding Constitutional Court discussed.
The Prime Minister of St. Maarten the Honorable Sarah Wescot Williams received a courtesy call by the President of the Constitutional Court of St. Maarten Justice Jacob Wit. During the courtesy meeting the Prime Minister and Justice Wit discussed various items pertaining to St. Maarten's role in the Caribbean Court of Justice and the Country's Constitutional Court.
The Honorable Justice Jacob Wit took a degree of Master of Law with honors from Vrije Universiteit (Free University) of Amsterdam in 1977. Mr. Justice Wit was admitted in March 1978 as a Judicial Trainee at the studiecentrum Rechtspleging (Training and Study Centre for the Judiciary) in Zutphen, where he remained until 1984. During this period he held the posts of Law Clerk in the Rotterdam District Court (1978-1980); Deputy Prosecutor at the Amsterdam District Court (1980-1982); and worked as an Attorney-at-Law with the Law Firm of Van Doorne & Sjollema in Rotterdam.
Mr. Justice Wit was appointed by Her Majesty Queen Beatrix of the Netherlands as Deputy Judge of the Rotterdam District Court in January 1984, Judge of the Netherlands Antilles and Aruba on 1 October 1986 where he functioned as Coordinating Judge, Court of First Instance, Curacao (1993-1996); Coordinator Judge of Instruction, Netherlands Antilles (1994-1997); Coordinating Judge for the Dutch Windward Islands of Sint Maarten, Sint Eustatius and Saba and from 2001 to 2005 as Senior Justice and Acting Chief Justice.
He is a Judicial Educator and a Lecturer in Law. Justice Jacob Wit took the Oath of Office as a Judge of the Caribbean Court of Justice on Wednesday 1 June 2005 and was in 2010 installed as President of the Constitutional Court of Sint Maarten.
From the Cabinet of the Prime Minister