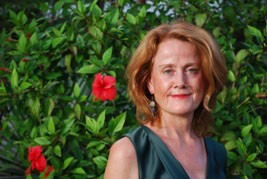 PHILIPSBURG:--- The board of the University of St. Martin (USM) suspended the institution's President Annelies Oliver van den Assem last Saturday. According to information provided to SMN News van den Assem signed a contract with the University of Curacao (UNA) in 2013 for them to provide a Business and Accounting course at USM for a period of two years.
According to the information SMN News received is that van Assem did not consult with the board prior to signing the two year contract which costs USM some $6,000.00 per year, furthermore the contract she signed clearly stated that the students will not get an accredited certificate when they complete the program.
The source said that the Dean of the University found the signed contract sometime in July and he alerted the board. Ever since the discovery the board of USM has been in touch with UNA to see if they will find a proper solution that would allow the 17 students that are participating in the course to get an accredited certificate when they complete the program. However, negotiations with UNA is still ongoing. SMN News could not get an official comment from the Chairman or vice Chairman of the board of USM up to the time this article was published. As soon as more information becomes available SMN News will bring you up to date.