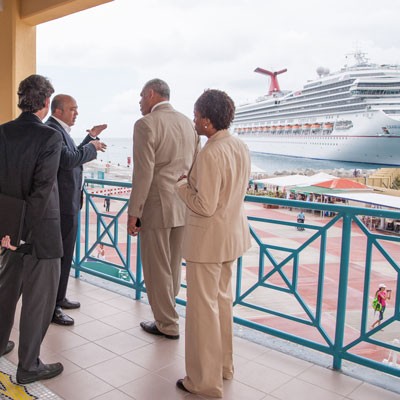 POINTE BLANCHE:--- The St. Maarten Harbour Group of Companies fully supports the purchasing of the Emilio Wilson Estate as well as its sustainable development, Group Chief Executive Officer Mark Mingo said on Thursday.
The port became involved in the discussions related to the Emilio Wilson Estate during the last quarter of 2013. The harbour group is well aware of the various advices including the one from the Financial Supervisory Committee CFT.
The harbour has the financial capacity to purchase the property that would become a monument for the people, but at the same time establish a marquee tour which is essential for the further development of the tourism product and visitor experience, and which would also be enjoyable for the people of the country.
The marquee tour would not inhibit the natural environment in anyway or form or disturb the monumental preservation of the estate. The key would be sustainable development which is recognized all over the world with respect to the sustainable usage of heritage and historical resources of a country.
The harbour group of companies has reviewed the sales proposal for the Emilio Wilson Estate and made a feasibility study with Accountants firm KPMG. The group also commissioned two independent firms to review the appraisal and provide an advice.
St. Maarten ranked 18 out of 21 destinations in tours; and when cruise passengers were asked how satisfied they were when they purchased a tour, the destination scored 8.0 out of 10.
When the cruise passenger was asked how satisfied were you with the variety of things to see and do in the destination, St. Maarten ranked 7 with a score of 7.2.
The St. Maarten Harbour Group of Companies takes note that even though the Caribbean is still the largest market for cruises in the world; the market share has been challenged during the past few years by new emerging markets.
Cruise executives have been warning the Caribbean that it must continually work to create new experiences to keep the destination's experiences fresh. A study completed by McKinney Rogers International for the Florida Caribbean Cruise Association (FCCA) stated, "For many of the islands, the ground product has changed little since the 1990s."
At the 2013, Cruise Shipping Miami Conference, cruise executives said that well-traveled destinations like the Caribbean, where cruise passengers have visited multiple times, must do much more to refresh the shore side experience and activity options for guests.
All cruise executives agree that the best new experiences in the Caribbean should be authentic.