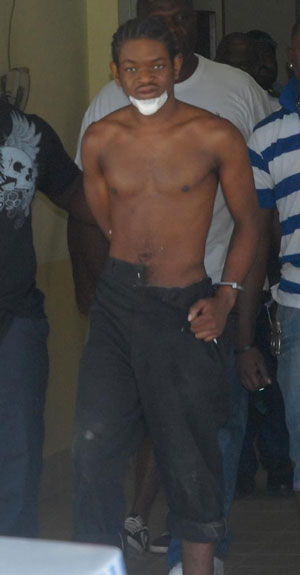 Philipsburg:--- Several police officers are to be commended for their swift actions on Monday morning in capturing escaped prisoner Omar Smith Nelson better known as "Chucky". Police Spokesman Ricardo Henson told reporters on Monday afternoon that Chucky was captured in an apartment in Nazareth Dutch Quarter shortly before 7am Monday August 29th. Police also arrested three persons that were also in the apartment for aiding and abetting an escaped convict.
Henson said Omar Smith Nelson better known as Chucky escaped from the Pointe Blanche Prison facility on March 20th 2011 while in pre-trial detention for the murder of Wouter Romejn. Chucky Nelson has since been sentenced to 18 years behind bars for the killing of Romejn, Henson said his sentence is irrevocable.
In the meantime, Nelson will soon appear before the judge of instruction to answer three additional charges. The Police Spokesman said Omar Smith Nelson will be charged for escaping from the Pointe Blanche Prison, while he will also be charged for two armed robberies and a kidnapping that took place last week.
Henson said police received a phone call shortly after 6:00am on Monday morning informing them of Nelson's location in Nazareth and police managed to make the arrest just before 7:00am. Henson said Nelson resisted his arrest but the 8 to 10 detectives that responded to the scene managed to bring in under control quickly. The Police Spokesman said Nelson was not armed when he was arrested but police found a rifle in the apartment.
The Police Spokesman said police will also go after the persons that aided and abetted Nelson from the time he escaped to when he was captured. "As long as we know who helped him during the time he was wanted we will go after them," Henson said.
The Police Spokesman said the Police Management team strengthened their efforts and team to find Omar Smith Nelson when they learned that he was preparing to leave St. Maarten. Henson said several police officers worked over time as they tried to gather information on his exact whereabouts. Those officers he said need to be commended since they worked extremely hard to find Chucky Nelson. Henson also extended gratitude to the person who called police on Monday morning to inform them of his location.