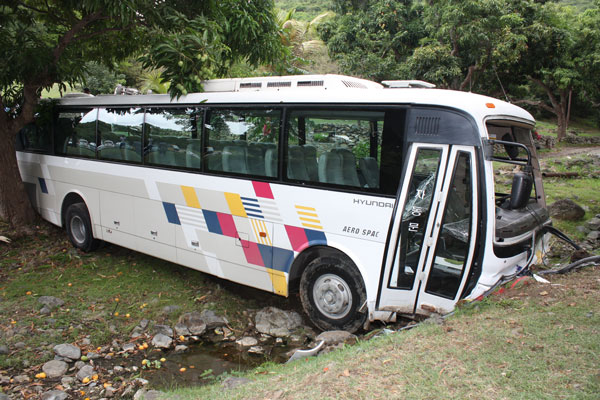 Marigot:--- At least six persons that were in a Dutch Tour Bus were injured after it collided with Taxi 67 on Thursday. According to reports reaching SMN News, the taxi did not give way to the Tour Bus that had a number of passengers on board. SMN News learnt that the tour bus driver lost control while descending the hill towards Lotterie Farm and collided with Taxi 67. The taxi flipped over and landed on its roof, luckily the taxi was empty at the time of the accident as the driver had already dropped off his passengers at Lotterie Farm.

The Gendarmes were called to the scene to investigate and it appears as though the bus lost control due to brake failure. However, the Gendarmerie said they cannot confirm if that is in fact the main cause of the accident as the vehicle would have to be inspected by special technicians.

A spokesman from Dutch Tours stated that the company used other buses to transport all their passengers back to the ship. The injured tourists were also taken back to the ship after they were treated at the Louis Constant Fleming Hospital and interviewed by the Gendarmes.

The medical condition of the drivers was uncertain up to press time as they were still at the hospital up to late Thursday afternoon.