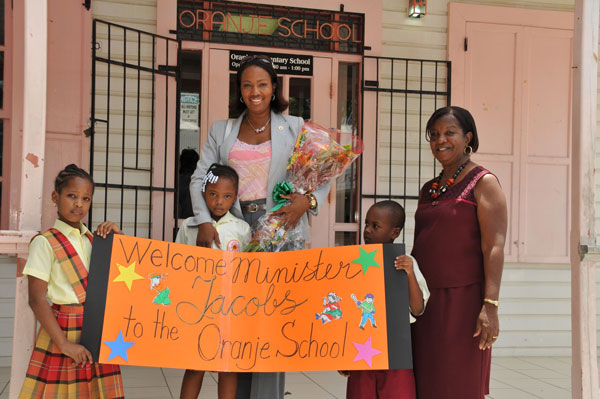 Philipsburg (DCOMM):--- On Thursday, May 31, Minister of Education, Culture, Youth and Sports Silveria Jacobs visited several primary schools to have introductory meetings, which included a meet and greet with the principal, the staff, teachers, and students and to share her vision for education on St. Maarten.

"I was overwhelmed by the enthusiastic welcome of the students and teachers," Minister Jacobs said.
"In addition, teachers welcomed the idea of a Summit and the opportunity to be involved in the process."

After the welcoming, the Minister spoke to the principals and other school officials about the current situation at the school and the future plans, including the challenges. Next, the minister toured the properties and got a first-hand look at the grounds of each school.

Referring to her school visits, Minister Jacobs said that, as a new member of Government, I wanted to get familiar with each school and to find out what the issues are, but also we have to see what is working well.

The Minister commended everyone. Being in the education field is hard work, and you need a lot of patience, but it is also rewarding to see your students get good grades, do their homework, and later become productive citizens in society, Minster Jacobs said.

As much as we can, the government along with other ministries and departments, Minister Jacobs said, we will make sure, within our limitations, that each school is up to par, that the immediate problems are attended to, and that we continue educating the children as best as we can.

"These students are our future; they deserve and will get the best that we can provide."

The Minister visited the following schools: Sister Regina Primary, Leonald Conner, Oranje, St. Joseph Primary Christian Hillside, and Seventh Day Adventists. Visits to other primary schools are scheduled for next week.