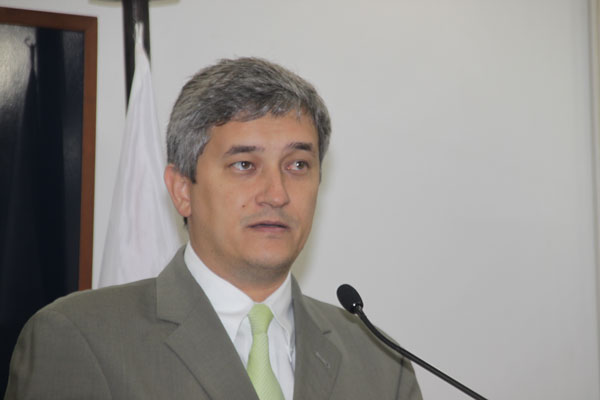 Philipsburg:--- Deputy Prime Minister Theodore Heyliger sent a strong message to the supervisory board of the United Telecommunication Services (UTS) on Wednesday during the Council of Ministers press briefing. The Minister said the political developments on Curacao will have adverse effects on St. Maarten. As for UTS, the Minister said it is a large company in Curacao and while St. Maarten has shares in the company the island still does not have any board members on the supervisory board that can look out for St. Maartens' interests. Heyliger said while the politicians on Curacao are boasting on how much UTS is investing in their country and other countries it behooves St. Maarten to look at its position within the company. Heyliger said instead of UTS trying to purchase TELEM he believes that the time has come for St. Maarten to acquire the assets (its shares) in UTS on St. Maarten so that St. Maarten could control its own destiny and not leave it in the hands of Curacao's politicians. Heyliger said Curacao politicians are able to sit and direct supervisory boards and directors in government owned companies while on St. Maarten politicians have an arm's length approach.
The Deputy Prime Minister said St. Maarten still is sharing in about 15 companies with Curacao and he believes it is time for St. Maarten to take its assets or sell off its shares to Curacao so that country St. Maarten could move forward and not get entangled in Curacao's political sphere.
Minister Heyliger said UTS has donated to several schools on Curacao who now have high speed internet as well as television. Heyliger said that Curacao's Prime Minister can now speak to every school on Curacao with the push of a button which is also paid for by UTS St. Maarten and Curacao. Heyliger said he is looking forward to see if the company will make the same types of investment in St. Maarten schools. "I want to see high speed internet and television in St. Maarten's schools also," Heyliger said.
Heyliger said the matter was discussed in the Council of Ministers and they have decided to evaluate their possibilities which have to be in St. Maarten's best interest. Heyliger said already St. Maarten's share holder representative Minister Duncan expressed St. Maartens' concerns on not having anyone on UTS supervisory board.
Prime Minister Sarah Wescot-Williams said Minister Duncan even requested that at least two persons from St. Maarten be placed on the UTS supervisory board. The Council of Ministers she said has decided to evaluate all its shares in the other companies.