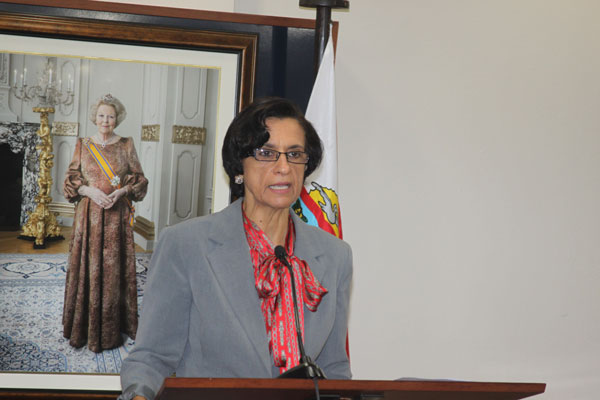 Philipsburg:--- The Prime Minister of St. Maarten Sarah Wescot Williams informed members of the media on Wednesday at the Council of Ministers' press briefing that the discussions initiated by St. Maarten with the caretaker government of Curacao on the issues relating to the Central Bank will continue on Saturday in Curacao. Wescot Williams further explained that it is intended that after Saturday's meeting the two governments will come to an agreement on how to move forward with the joint Central Bank as they prepare for a status report or a so called plan of action by the government of the two countries that has to be presented to the Kingdom Council of Ministers by August 24th.

Wescot Williams said that a video conference was held with the Prime Minister of Curacao and Minister of Finance of Curacao. She said on behalf of St. Maarten, she as Prime Minister and the Minister of Finance of St. Maarten participated in that meeting. Wescot Williams said since that meeting she was informed of some new developments regarding the central bank, one being that the supervisory board will meet on Friday. Wescot Williams said St. Maarten made clear during the video conference meeting that St. Maarten wants to see its branch fully equipped and upgraded while the government of St. Maarten wants the supervisory board of the Central Bank to approve the budget of the Central Bank for 2012. St. Maarten's Prime Minister said that there is an extensive agenda for the meeting that is to be held this weekend. However, St. Maarten has proposed to the government of Curacao to allow the supervisory board to continue with its planned meeting and that the meeting with the two governments should also take place. She said several of the items on the agenda for this weekend meeting are things that St. Maarten has been asking for. One of those things she said is the approval of the budget and the annual accounts of 2011. So far she did not get a response from Curacao but her intention is to make sure she brings these points forward when the meeting takes place.



Will St. Maarten Endorse the Suspension of Emsley Tromp?

When asked if St. Maarten will be endorsing Curacao's intention to suspend the Director of the Central Bank Emsley Tromp as was stated in one of the daily newspapers, the Prime Minister said the newspaper article was a mis-quote and in fact St. Maarten requested the terms of reference regarding the government's intention to suspend Tromp. She said since the video conference, St. Maarten did receive the terms of reference and based on what they have seen thus far the document is very much suggestive.