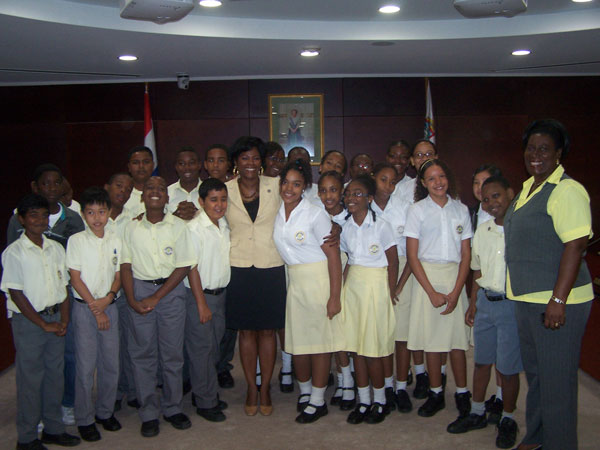 PHILIPSBURG:--- On Friday morning, 25+ fifth graders from the St. Joseph Primary School, along with their teacher and a parent, visited the House of Parliament at Wilhelmina Straat in Philipsburg.

Arrindell during the school visit also commended a parent who took time off from work to be present to assist the class teacher with the school visit.

"I greatly appreciate the effort made by this parent to attend and support her son. Parents have to take time out of their busy schedules to support their children as they are the future and they need that support," the President of Parliament said on Sunday.

Arrindell was very pleased with the interests shown by the fifth graders into the institution of parliament. "I marvelled at their faces when I see the interaction and the interests they have in the highest institution of the land."

The President of Parliament told the students they should aspire to be part of the institution of parliament as it is a fundamental part of the country's parliamentary democracy.

Arrindell explained the students about the workings of the country's parliamentary democracy with respect to the roles of Members of Parliament (MPs); who were the MPs and Council of Ministers.

During the enactment of a parliamentary session, students posed a number of questions to their fellow students who were acting as Ministers.

The questions that students asked each other were about the economy, crime, and independence for Sint Maarten, life sentence for human trafficking, and how disputes between Ministers are dealt with.

The students at the end of the presentation were also given a tour of the House of Parliament.