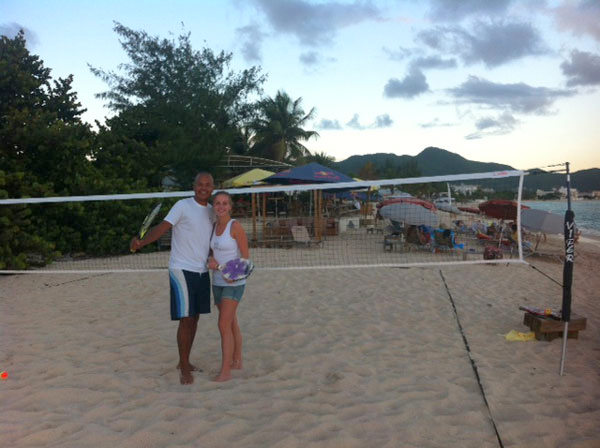 SIMPSON BAY:--- Coming November 9,10 and 11, St. Maarten's Kim Sha Beach will be the location of an International Beach Tennis Tournament organized by Julie Labrit (#1 Female Player St. Maarten) which is recognized by the ITF (International Tennis Federation).
Beach Tennis was born in the late seventies and is played on the sand, on a beach volley ball court with the basic tennis rules played in double or mixed couples.
Beach Tennis is very popular on the French side of St. Maarten already, two Beach Tennis Clubs are located on Orient Beach, on the Dutch side of the island this fun sport is upcoming!
This tournament will be the 6th Tournament organized on the island, but only the 2nd one on the Dutch side and around 120 of the very best Beach Tennis players from all over the world are expected to come to St. Maarten to participate in this big tournament which promises this event to be a very exciting one for our island!
The Dutch side of St. Maarten will be represented in the Mixed matches by Jerry Wikkeling and Tess Blom, who have been practicing for the past 6 months for this Tournament. The Dutch side team will be sponsored by Beach club Karakter (located at Simpson Bay Beach) who recently invested in a Beach Tennis court their selves. Anyone who would like to try and play Beach Tennis can come to Karakter and try this fun sport anytime! (Karakter staff can be asked for the racquets and balls)
An island such as St. Maarten, with natural playing conditions and favorable weather throughout the year is perfect for this concept that combines fun, sun, sport and beach and there is no other way than to embrace it!
For any questions about the organization and for more information visit www.kbt971.fr or call 06 90 57 83 92 or for more information about Beach Tennis on St. Maarten you can also join the Facebook page 'Beach Tennis Saint Martin'. The public is invited to come to the Tournament to get to know this fun sport and to support the players (food, drinks and music will be available).