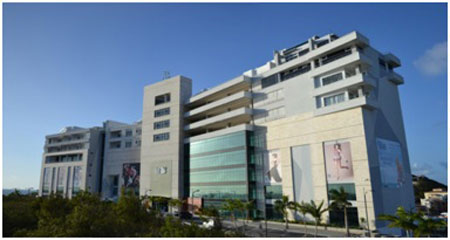 PHILIPSBURG:--- What is projected to become one of the most upscale and exclusive shopping areas in the Caribbean just surfaced with the opening of the Blue Mall shopping center in Cupecoy, St. Maarten (www.VacationStMaarten.com). Convenient to both the French and Dutch sides of the island and away from the hustle and bustle of downtown, the mall's soft launch featured the opening of six stores - Enjoy SXM, Fashion and Chic, Swarovski, Swatch Watches, Bacchus and Yogen Fru.
Additionally, Blue Mall will open more stores and other amenities through the first quarter of 2013.
Offering a unique and unparalleled shopping experience in the Caribbean, the Blue Mall shopping facility combines modern architecture with the openness of the region's lifestyle.
"St. Maarten is already a shopper's paradise offering guests duty-free shopping and an abundant assortment of stores," said Edward Dest, interim Director of Tourism for the St. Maarten Tourist Bureau. "The opening of Blue Mall further solidifies the island as a shopping capital to both our visitors and residents with over 110,000 square feet of merchandise and dining."
Blue Mall, located at 162 Rhine Road, Cupecoy, St. Maarten, is easily accessible from the French side of the island via Terre Basses and is just a short distance from Princess Juliana International Airport, Mullet Bay Beach and Cupecoy Beach.