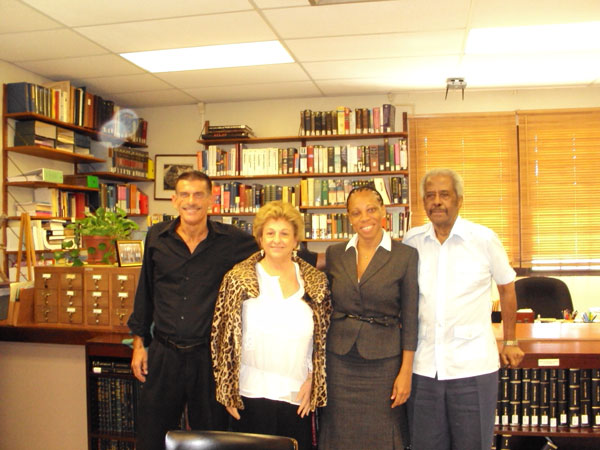 San Juan, Puerto Rico/Great Bay, St. Martin:--- The world did not end on May 21, 2011 as the doomsday prophets had predicted, rather a new world unfolded for Minister of Education, Rhoda Arrindell, who successfully defended her doctoral thesis in Linguistics at the University of Puerto Rico, Rio Piedras, Puerto Rico, with the highest grading of Summa –cum-laude (sobresaliente). It was the culmination of a brilliant academic pursuit.
Presenting her dissertation, "Language, Culture and Identity in St. Martin", Ms. Arrindell gave the Dissertation Committee of three professors, each an expert in their respective fields, a brief historical background of the island, and her motivation for embarking on a scientific description of St. Martin English.
In introducing her, the director of her dissertation, Prof. Mervyn Alleyne, a pioneer Creole Language Studies specialist, said Ms. Rhoda Arrindell was the first non-Spanish student to complete a Ph.D course at UPR. The doctoral candidate fulfilled the requirements for the course in record time, he also revealed.
In another first, Dissertation Committee member, Prof. Alma Simounet, an expert in Ethno-linguistics, Bilingualism and Applied Linguistics, pointed out that Dr. Rhoda Arrindell would be the first UPR graduate with the "power to translate her thesis into praxis" rather than allow the dissertation to "gather dust on the shelves like so many others."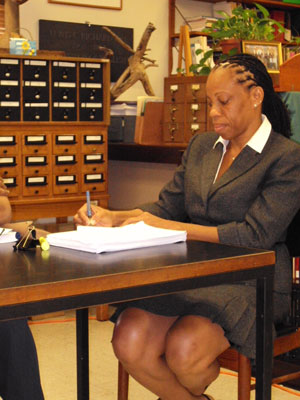 Prof. Simounet praised the writing skills of Dr. Arrindell, stating that her dissertation was not "dense" but an "easy read." Prof. Simounet recognized the many hurdles and obstacles the Ph.D candidate had to overcome and called her "Wonder woman".
"You did it with such grace and poise that I wonder if when you got home you had your moments," Simounet added.
In over an hour of defense, Rhoda Arrindell gave an eloquent presentation which had everyone in the hall spell-bound. Following her presentation, both Prof. Simounet and Prof. Nicholas Faraclas, the third Committee member and a specialist in Creole Studies, Syntax and Phonology, agreed that Dr. Arrindell's thesis could have been three separate dissertations.
"Your work opens up a window to further studies and is a major contribution to scholarship in the Caribbean," noted Prof. Simounet.

The hall was later emptied for the panel to deliberate and shortly after, the candidate was called in to find out her fate.
"I regret to inform you..." began Prof. Alleyne jokingly, before pronouncing perhaps the most important words for the small gathering, and in particular for the candidate: "You have been accepted into the family of Doctors in Philosophy with a grade of 'sobresaliente' (summa cum laude)."
An overjoyed Dr. Rhoda Arrindell thanked the professors and promised to continue to work hard in the interest of academic excellence and of her people.