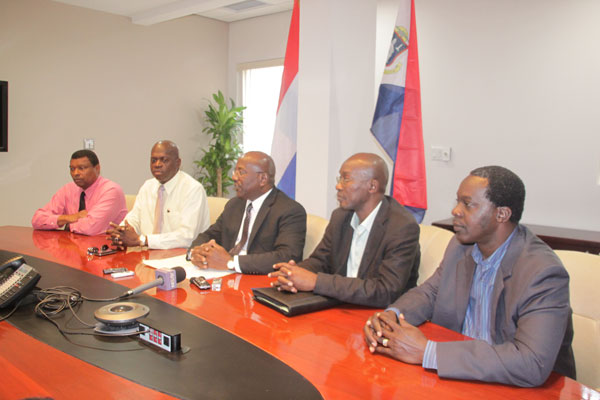 Philipsburg:--- The six members of the National Alliance in parliament will be submitting a draft amendment to the civil code which would curtail the abuse of the short term labor contract announced the leader of the National Alliance William Marlin at a press conference on Friday afternoon. Marlin said he is waiting on one of his members to return to the island to sign the draft amendment before it can be submitted.
Marlin explained that over the years politicians across the board on St. Maarten have promised during election time to eliminate the short term labor contract which he said is abused by employers on St. Maarten. He said while he spoke on this issue on a number of times he also tried to have the civil code amended in the parliament of the Netherlands Antilles but he was not successful. However, St. Maarten is now a country and he believes politicians who have made the promises should step up to the plate and support the amendment when it comes up for public discussions.
The National Alliance leader surrounded by four of his members said certain businesses such as supermarkets have been abusing the short term contract by hiring people such as cashiers on the six months contracts. He said one of the disadvantages of the abuse is that workers are not able to even rent a house from the St. Maarten Housing Development Foundation when they are on these contracts, besides that they are not able to obtain a loan from any bank on St. Maarten, neither can they build up any rights and or job security. Many businesses today he said have been outsourcing permanent jobs to outside companies who are hiring people on a short term basis.
While not releasing the draft amendment Marlin said that this might not fully eradicate the abuse, it will curtail the current abuse which he said is getting worse by the day.
The National Alliance leader said while employers have expressed fear that if they should employ their workers permanently, the workers would in turn abuse them by reporting sick daily. Marlin said he simply does not believe that would happen because workers of today want to work and if they are treated correctly and fairly they would protect their jobs. He gave examples of the Windward Islands Bank and GEBE, companies that have mostly local workers and are not complaining.
When the draft amendment is submitted, parliament would have to send it to the council of advice before bringing it to the floor of parliament for a vote to be taken.