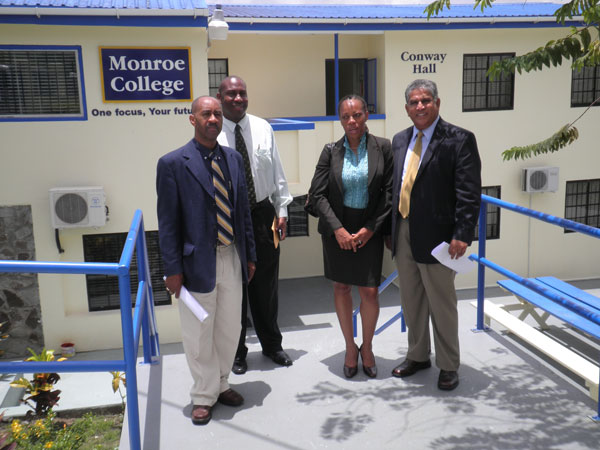 Philipsburg:--- Seeking and finalizing accreditation for the University of St. Martin is something the University would have to do on its own. "The matter of accreditation for USM is a USM matter and that is something USM would have to sort out," said Minister of Education Rhoda Arrindell on Wednesday. Minister Arrindell said her Ministry is open to assisting USM with whatever they can but when it comes to accreditation that remains the responsibility of the University of St. Martin. The statements made in response to a question posed by SMN News at the Council of Ministers Press Briefing on Wednesday by Minister Arrindell is far from what she said on her campaign trail when she was seeking public office on the United People's Party slate.
Minister Arrindell vowed to better education on St. Maarten including the services offered at USM where she taught for years.
Leader of the United People's Party Theodore Heyliger confirmed to SMN News that Minister Arrindell promised to seek accreditation for USM during the election campaign. When told what the Minister said about accreditation for USM the Minister said that "people need to separate their personal issues and work in the interest of everyone." Accreditation for USM was one of points of discussion and this matter was raised a number of times Minister Heyliger and Leader of the United Peoples Party said.
In the meantime, the education Minister announced that during her visits last week to St. Lucia and New York, she visited the Monroe College both in St. Lucia and New York. Minister Arrindell said that the government of St. Maarten will soon be signing a Memorandum of Understanding (MOU) with the institution which will allow students from St. Maarten to complete their studies at the St. Lucia campus. The Minister said students who receive government scholarships through study financing will be able to attend Monroe College at a maximum cost of USD $15,000.00 per annum and they can acquire a bachelor's degree within 36 months.
Monroe College holds the two highest accreditations available to any American college or university: the New York State Department of Higher Education accreditation and accreditation from the Middle States Commission on Higher Education of the Middle States Association of Colleges and Schools.
The St. Lucia campus of Monroe College offers degree courses in Public Health, Criminal Justice, Business Management, Hospitality Management and Information Technology.
The St. Lucia Ministry of Education authorizes the College to grant degrees in St. Lucia. It was interesting to note that the St. Lucia Hospitality Association stands guarantor for the study loans offered to the students, which are paid back by the students after completion of their studies. By so doing, the graduates are also almost 100% guaranteed a job in their industry. Its Culinary and Hospitality program allows the students to spend a full semester of training/internship in Italy. Minister Arrindell said.
At a meeting with the board of the University of St. Martin this week, Minister Arrindell said she gave a synopsis of her visit to Monroe College and suggested the possibility of articulation with Monroe for 2+2 program and transfer opportunities for USM students as well as to begin discussions regarding running some of the Monroe programs locally e.g. Criminal Justice, Forensic Science and especially their Teacher Education Program.
Minister Arrindell said she also intends to update Minister of Justice Roland Duncan immediately upon his return about the discussions held during this trip and continue to explore possibilities for this institution to assist with offering some of the much needed training and degree programs such as Forensic Science at USM.
The Minister said when she met with the board of USM, it centered mainly on the institution's Teacher Education Program. After a very open and frank discussion, it was agreed that and external evaluator would have to assess the program and verify that it meets the required standards for the granting of a Bachelor of Education degree, with emphasis on Foundation Based Education (FBE).
This evaluation will be conducted without delay, and depending on the outcome, which they expect to be positive, but if not, USM may have to offer additional courses to bring the Teacher Education Program (TEP) up to par with standards that would not only enable the graduates to be employed anywhere they choose to work, but also allow them to be admitted to post-graduate courses at any institution of higher learning.
The Minister of Education said her Ministry is committed to working with USM to ensure the quality of its programs and offer its students the very best perspectives possible so that they could graduate with the assurance that they would be able to enter the work force confidently or pursue post-graduate degrees anywhere in the world.