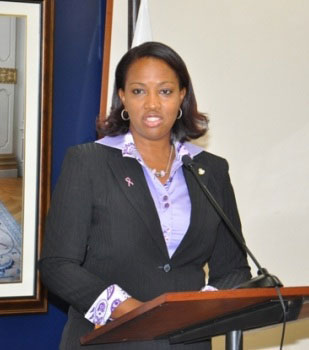 GREAT BAY (DCOMM):--- Sunday August 12, 2012 has been designated International Youth Day by the United Nations under the theme "Building a better world, partnering with Youth".

The Minister of Education, Culture, Youth Affairs and Sports Hon Silveria Jacobs hereby extends congratulations to all youth and youth organizations on St. Maarten who together with government are working together for our youth on St. Maarten.

"It is with renewed dedication and commitment to improving the services that Government must provide in order to promote our youth that we move forward at the start of this new school year with several plans which include the continued subsidizing of after school programs, community schools, sports programs, health programs, labour programs etc.

"Government is also making progress in its plans to upgrade our Sports facilities and we are engaged in talks with stakeholders to be able to incorporate more after school programs within the schools which would enable each child the possibility to explore his/her talents and keep our youth positively active in our society.
"It is our firm belief that having our youth actively involved in their own development will improve their chances for a bright and successful future.

"Therefore we encourage our youth to volunteer in schools, churches and community groups in order to provide service to the community in which you live. Let your voices be heard; contribute in the exchange of ideas. In this way you will be an active ambassador for the growth of your country.

"Time and again we hear the cliche "the youth are our future". I urge all youth to turn it into "Our youth is our present - What we do today, will determine our future!"

"I challenge the youth, youth organizations, community groups, educational institutions, sports organizations, artistic and cultural organizations, businesses and government to partner together in order to build a better St. Maarten and a better world," Minister of Education, Culture, Youth & Sports Hon. Silveria Jacobs said on the eve of International Youth Day.