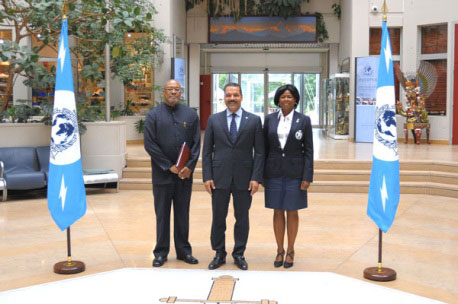 PHILIPSBURG:--- "While our delegation greatly appreciated the time and information provided, it is evident that concrete steps will have to follow at our home base from our respective jurisdictions"

"We have made great strides since becoming a country as well as being a recent member of INTERPOL. Yet we must recognize that Sint Maarten is still at its 'infancy' of building a firm and solid organization, and human resource basis in several areas, including in the area of law enforcement and law enactment for the safety and security of our Country," President of Parliament Hon. drs. Gracita Arrindell said on Wednesday from Lyon, France.

Arrindell and Minster of Justice Hon. Roland Duncan this week visited the world's largest international police organization INTERPOL (International Police), in Lyon, France.

Sint Maarten was one of three countries that joined INTERRPOL in 2011 at the November 80th session of the General Assembly held in Hanoi, Vietnam. The other two countries were Curacao and South Sudan.

INTERPOL is the world's largest international police organization, with 190 member countries. The organization's role is to enable police around the world to work together to make the world a safer place.

Arrindell said that the working visit certainly emphasized the need to stay on course and follow up with the action plans as discussed at the seminar held earlier this year on Sint Maarten.

"The opportunities for mutual beneficial cooperation between this highly effective managed global entity, is clear and present. It's up to us as a Country to step up to the plate and do our share to the benefit of our citizens and visitors alike.

"We thank Secretary General Ronald Noble for his vision and continued invaluable support in these endeavours," President of Parliament Hon. drs. Gracita Arrindell said on Wednesday.

Arrindell and Duncan were both warmly welcomed by INTERPOL Secretary General Ronald Noble earlier in the week.

A well placed program included several presentations by several key management staff of INTERPOL. This included what Arrindell described as excellent overviews of present and near future action plans of INTERPOL provided by Jean -Michel Louboutin, Executive Director of Police Services; Rosinete de Santana Barbosa, Assistant Director, Sub Directorate for America; Noboru Nakatani, and Executive Director for INTERPOL Global Complex for Innovation.

The Sint Maarten delegation also visited and received a presentation about the Command and Coordination Center by Emanuel Leclaire, Assistant Director of the Command Center.