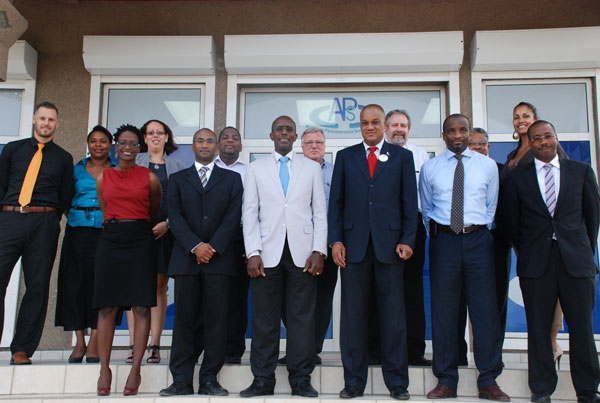 Philipsburg:--- The Honorable Minister of Finance, Mr. Roland Tuitt and representatives of St. Maarten's new pension fund organization, APS, are expressing satisfaction at the outcome of a detailed presentation on the progress of the organization made to the honorable Minister of Finance, Roland Tuitt, on Tuesday, June 26th.
Minister Tuitt, who was accompanied by his advisor, Xavier Blackman, was briefed regarding the organizational set-up as well as the organization's policy on investments. Ongoing and future action plans were also discussed with the Minister of Finance.

Among the organization's ongoing initiatives is that of updating the APS participant base. This project is being executed in collaboration with the former APNA (now APC) and the personnel departments of the various employers. The exercise is geared towards providing APS with a clear and complete overview of all individuals that are entitled to be part of the fund and ensuring their registration in the fund is complete.

During the presentation, APS representatives also briefed Minister Tuitt on the progress of the division of APNA assets.

With regards to the appointing of new board members to replace some of the sitting board members whose tenure end per October 10, 2012, the Minister of Finance enquired about whether profiles exist for the position on the board. APS representatives explained that the organization has, indeed, defined profiles which specify criteria regarding knowledge, experience, education, competencies etc. that potential board members should meet.

APS disclosed to the minister that it is making progress in meeting the financial year end reporting obligations to the Minister of Finance, the Central Bank of Curacao and St. Maarten as well as the General Audit Chamber. Minister Tuitt was pleased to hear that during the past months, the organization had complied with the requirements stipulated in their national ordinance (LvO APS) regarding such matters as annual budgets and the board's rules of order.

With regards to the fund's investment portfolio, APS provided insight into the portfolio's positive performance through the end of the first quarter of 2012.
Both the minister and APS agreed that realistic approaches need to be taken when it comes to selecting how and where to invest funds.
More...

A follow up to the meeting would be the making available of an information package on APS to the Minister of Finance detailing where the organization stands at the moment.

APS chairman Franklyn Richards has expressed the hope of providing a similar presentation to the council of ministers, particularly for the recently appointed cabinet ministers.

APS director Kendra Arnell says that the organization is very happy with the Minister's pragmatic views and approach on issues regarding the pension fund.