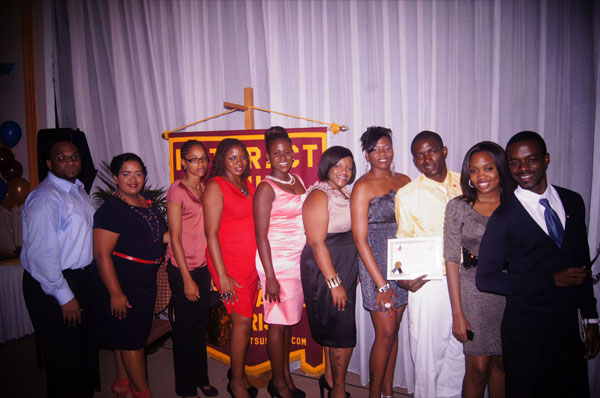 Philipsburg:--- Rotaract Club of St. Maarten Sunrise in collaboration with Rotary Club of St. Maarten Sunrise held their annual Change of Board Ceremony at the Sonesta Great Bay Resort on Saturday June 16, 2012. Elisia Lake will be taking over the Rotaract Club from Past President of 2011-2012, Janice Wever-Choisy.
Among Rotarians, Interactors, friends and family, present at the change of board ceremony was also the Honorable Deputy Prime Minister William Marlin who was the keynote speaker. The theme that Mr. William addressed to the audience was "Peace through Service". He highlighted how the government and individuals in the community should carry out service in their everyday lives to create a peaceful island.

Before handing over the honorable position, outgoing Rotaract Club of St.Maarten Sunrise President Janice Wever-Choisy mentioned in her farewell speech that her club did wonders in the 2011-2012 year, but the job is not yet finished. She stressed of Elisia's strong willed personality and her confidence that Elisia will do a superb job of heading this amazing club. Elisia Lake was pinned the President of Rotaract Club Sunrise St. Maarten 2012-2013 by Assistant District Governor 2011-2012, James C Ferris.
In a press release issued by the club, they high-lighted the incoming President's speech where she quoted Mother Teresa by saying, "I alone cannot change the world, but I can cast a stone to create many ripples". Lake stressed that she will need the help of every Rotaractor and persons in the community who share in the same dream of a better St. Maarten. Ms. Lake emphasized her desires in maintaining the services that Rotaract Club provides to the community which is to "bring water to the thirsty, food to the hungry, medical attention to the sick, educating the illiterate and clothing the needy. Two of the club's main goals for this year are to seek recognition of the Rotaract Club Sunrise and increase membership. She concluded by saying that the Rotaract Club will continue to put Service above Self in everything we think say or do and urged her members to cast stones together so we can create waves of change.

The Rotaract Club inducted two new members, Aswayan Cooks and Charles Rollan and the new board members of 2012-2013 are: ELISIA LAKE – PRESIDENT, NORISSA ANATOL – VICE PRESIDENT,
JANICE WEVER – IMMEDIATE PAST PRESIDENT, JUDITH BAIN – SECRETARY, TYRONE YATES – TREASURER & SERGEANT OF ARMS, JANALE NISBETT – COMMUNITY SERVICE DIRECTOR & PROFESSIONAL DEVELOPMENT DIRECTOR, MICHALINE WARNER – CLUB SERVICE DIRECTOR
and JEAN PHILIPE SYLVESTER – INTERNATIONAL SERVICE DIRECTOR.