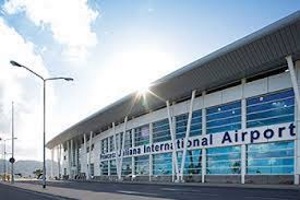 PHILIPSBURG:--- The Princess Juliana International Airport (SXM) is ensuring that inbound and outbound flights via St. Maarten will be facilitated this week (March 16 - 21, 2020) to support the demand for the departing passengers.
Visitors on the island that are scheduled to return home, and St. Maarten residents that are abroad who will be
traveling back home; not excluding regional travelers that are transiting via SXM Airport to also travel back home are not restricted (Anguilla, St.Barths, Saba, St. Eustatius and other Caribbean islands).
As per the executive order given by the Government of St. Maarten to minimize any chance of an epidemic outbreak, travel is restricted to St. Maarten for the coming two (2) weeks. This is for all travellers from effected areas due to the Novel Coronavirus (COVID-19) (See list - China, Singapore, Japan, Korea, EU, USA, Canada and other regions as per release) and are traveling to St.Maarten.
SXM Airport hereby request that you get in contact with your airline and/or travel agency for immediate updates on the developments of the travel restrictions.
The set restrictions as of March 15, 2020, maybe altered based on developing events and the protocol set by the Emergency Operations Center (EOC) of St.Maarten.
Following our internal stakeholder's meeting on Monday, March 16, 2020, (12:00 pm) we will ensure to announce further details of the developments regarding the travel restrictions from St. Maarten.