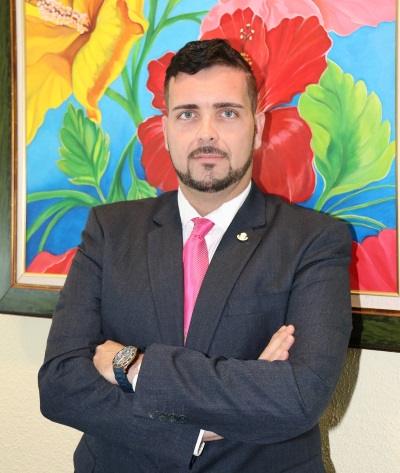 PHILIPSBURG:---- Minister of Tourism & Economic Affairs Stuart Johnson condemns poaching in the Man of War Shoal Marine Protected Area (MPA) and calls on those responsible to cease from these illegal activities as it damages the country's tourism sector.
The St. Maarten Nature Foundation recently alerted the public to a number of incidents of poaching in the MPA especially the hunting and harming of sharks which became illegal in 2011 when the Ministry of Tourism, Economic Affairs, Trans, ort and Telecommunications banned the practice of intentionally poaching sharks in the territorial waters of Sint Maarten.
The area of the MPA has been off limits to fishing since 2010.
In June 2016, the Government announced that the territorial waters had become a shark sanctuary.
According to the Nature Foundation, based on research, the MPA is valued at US$50 million to the national economy on an annual basis.
"The recreational diving and snorkeling industry are very important sub-sectors of our national economy and make an overall contribution to the Gross Domestic Product of the country.
"Therefore, when under threat and at risks, we have to protect our economy. Reef tourism creates employment and is an amenity to the tourism economy.
"It generates tax revenues for the Government coffers and those involved in the recreational diving and snorkeling sector also help promote the island to the dive market.
"I am pleased to hear that the Nature Foundation has increased its patrols including during weekends and early morning hours of the MPA in order to combat illegal fishing activities. We need to protect our natural tourism resources," Minister of Tourism & Economic Affairs Stuart Johnson said on Sunday.
The Nature Foundation says: The act of trying to catch by tracking, stalking, baiting, chasing, trapping, hooking, netting, shooting or otherwise hunting - sharks, rays , nd skates is prohibited and therefore the animals may not be wounded, caught, landed, or killed. Violators may be punished with jail and a considerable fine may be issued. If Sharks are accidentally caught all steps should be taken to release the animal with as little harm as possible.