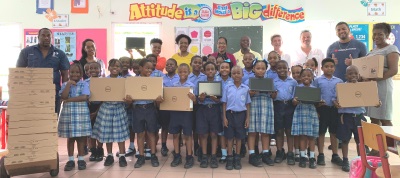 PHILIPSBURG:---:There were happy smiles all around last week in the Group 4 class of the MAC St. John's Campus primary school when 48 kids found out that the boxes brought into the classroom were laptops and some additional hardware items.
After Hurricane Irma, the city of Den Bosch in the Netherlands, in collaboration with Nos Baranka, a Dutch Caribbean grassroots organization, offered assistance to St. Maarten. One of the main criteria was that the donation needed to meet the global sustainable development goals. During a post-Irma St. Maarten event in the Netherlands, Mrs. Ludwina van der Meijden, representing Nos Baranka, met with RebuildSXM Foundation who followed up on this request and contacted Foresee Foundation in St. Maarten.
Together with Nos Baranka, Foresee Foundation wrote a plan proposing a DigiKidz project for the MAC school, which had sustained quite some damage during the hurricane and which was eager to bring integrated technology in its schools. A presentation was made by management and IT staff and presented to the committee in Holland. With the collaboration of the Dutch company Skool who had supplied all three current DigiKidz schools on St. Maarten with network equipment and student devices between 2014 and 2016, 43 laptops, a switch and Wireless, Access Points were ordered. The delivery of the laptops to the school was sponsored by shipping agent ProfPac.
CaribWork, partner in all Foresee DigiKidz and DigiTeenz projects, will install a small 2 classroom network so students and staff can effectively use the technology. This additional part of the project will be sponsored by Foresee Foundation through a private local St. Maarten donation.
In the upcoming months the tech-savvy Group 4 teachers and IT staff, together with the students, will start exploring the use of the laptops and will integrate them within the Foundation Based Education curriculum. The next step in this project will be to set up a pen pal partnership with a primary school in Den Bosch, where students on either side of the Atlantic will become pen pal friends through email and social media.
The MAC school Executive Director Mrs. Coram-Hughes expressed her sincere thanks to Den Bosch and all other sponsors.