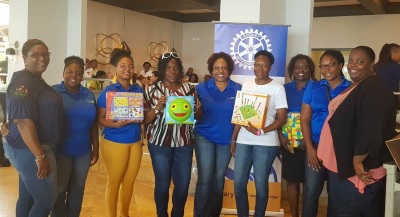 PHILIPSBURG:--- The Rotary Club of St. Martin Sunrise contributed to the St. Maarten Early Childhood Development Association World Teachers Day (SECDA) Celebration. SECDA organized a retreat for the teachers of all registered pre-schools on the island, which consisted of over 100 teachers. President of the Rotary Club of St. Martin Sunrise, Valda Hazel stated in her address to the teachers, that one of the areas of focus of Rotary is supporting Education and Basic Literacy and therefore the club encourages Education Development. We know the hard work and dedication you put in daily as teachers and we will forever be grateful, you are the ones who are molding our children in becoming exceptional adults. One should consider this contribution towards the event as a gesture of our appreciation.
The Rotary Club of St. Martin Sunrise took this opportunity to gift two (2) Pre-Schools with learning tools. The selected schools suffered a great loss due to Hurricane Irma and even one year after the hurricane the owners and teachers are still struggling to rebuild the school. These schools cater to highly developed communities and therefore there is a great demand for them. The recipients of the learning tools were Little Goslings and Discovery Kidz Pre-Schools.
The learning tools were provided by Ms. Deika Morrison, the founder of a program that supports early childhood education and development in Jamaica - Crayons Count. Through her foundation in the USA, Do Good International, Deika offered to provide packages to schools and/or children in countries affected by the recent hurricanes. Crayons Count provides recommended learning tools for the early childhood age group, which is up to age 8. With the help of volunteers from Hands On Miami, FIU Caribbean Students Association, Florida Caribbean Students Association and The Children's Trust, they were able to package the boxes and have them shipped to the islands.
Each package contains balls, Blocks, Books, Crayons, Manipulatives, Musical Instruments, Paint, Puppets, Puzzles, Stationery, etc...