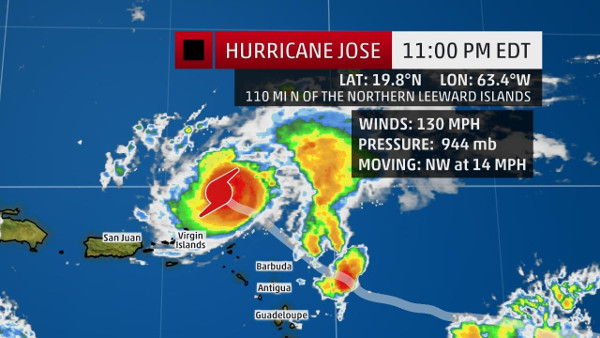 Jose is a Category 4 hurricane with maximum sustained winds of 130 mph in the central Atlantic Ocean – the third major hurricane of the 2017 season – and is moving away from Barbuda and St. Maarten, just days after Hurricane Irma ransacked parts of the region.
Jose is currently located about 110 miles north of the northern Leeward Islands and is moving northwest at 10 to 15 mph.
A tropical storm warning remains in effect for St. Martin, St. Maarten and St. Barthelemy.
Strong wind gusts and high surf are expected in some of the northeastern Leeward Islands into early Sunday morning.
Increased wind shear should slowly weaken Jose over the next couple days as it tracks northwest, away from the northern Leeward Islands.
By midweek, however, steering winds should collapse, and Jose will stall out for some time between Bermuda, the Bahamas and Puerto Rico.
The future of Jose beyond that time remains uncertain.
Check back with weather.com for updates in the days ahead for the latest details on Jose.
Weather.com Report