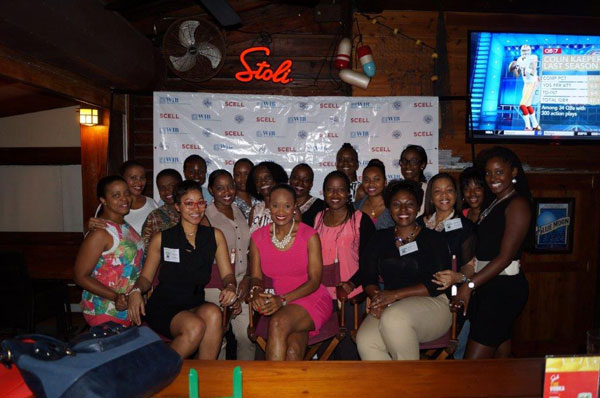 PHILIPSBURG:---- The University of St. Martin's School of Continuing Education and Life Long Learning, the birthmother of the Women's Island Network (WIN), held its Membership Drive at Skip Jack's located in Simpson Bay.
WIN was founded in August 2015 by Dr. Natasha J. Gittens, Ph.D. CHE. Director of SCELL based on her vision to organize a consortium of powerful women on the island to embrace and mentor young women and empower women as a whole to pursue educational opportunities at The University of St. Martin (USM) and The University of the Virgin Islands at USM.
The Membership Drive was held to provide the women of St. Maarten information about WIN and give them the opportunity to join the progressive women's group to increase awareness of the degree programs offered at USM, including GED and Associates degree programs, accredited BTEC Hospitality, Bachelors and Masters Degrees. The board is comprised of diverse women on the island, who hold key positions in leadership roles in major organizations who have formed a consortium to revitalize the image of USM and build enrollment one women at a time.
SCELL Director, Dr. Gittens stated: I am committed to the University of St. Martin. I believe in our programs and I am determined to build enrollment for both women and men over the next year. WIN is just one of the launched organizations that will allow the St. Martin community to view their "university" (USM) in a different light than in past years. It is imperative that the St. Martin community embrace their motherland university, (USM) and begin taking advantage of the degree programs we have to offer. This commitment will ensure that we are grooming our next generation leaders in St. Maarten at our local university, increasing our chances that they will be fully committed to growth and economic development of our country. We must all reinvestment in USM, and commit to at least one members of every household earning a degree from USM.
Chantelle André, WIN's Community Affairs Officer stated: "What a successful event! Great to be in the company of such empowering, inspiring, high energy women. Congratulations to all the new members. This is the just the beginning."
Women who stopped by had a positive reaction to the event and stated:
"All WIN events are full of love and laughter. I am very excited to be a part of a powerful organization of strong intelligent women. Cheers to WIN!" – Miss Islene
"I had a great experience at this WIN event. I am excited at the prospect of being a part of this amazing organization. – Miss Janet J.