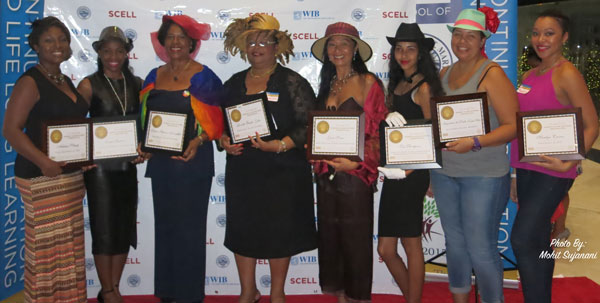 PHILIPSBURG:--- On Friday, December 4, 2016 SCELL, The University of St. Martin's School of Continuing Education and Life-Long Learning, appointed the Women's Island Network Board and Honorable Board Members. WIN was founded by Dr. Natasha J. Gittens, Ph.d., CHE, SCELL's Director.
The Women's Island Network Board consists of women of power, professionalism and all who share the desire and conviction to support other women embrace educational opportunities. The Board and Honorary board were hand selected based on their commitment to the St. Maarten community and their desire to make a measurable difference among women of diverse backgrounds in our Mosaic community of cultures.
Gittens stated: WIN is different from all other Women's organizations on the island. We are building a membership base of women with diverse talents, from a multitude of different cultures and have unified to develop a strong women's "educational movement" in St. Maarten. As the founder of WIN, I have set a goal to challenge my board to encourage 100+ women to enroll at The University of St. Martin and The University of the Virgin Islands by the end of 2016. A big goal but I know we can achieve it.
The newly appointed President of WIN, Ms. Cronie stated on Friday night: I am empowered to take on this role and I am prepared to help women WIN at life, WIN at Education and in all aspects of their lives.
The appointed WIN Board consists of the following members: Ms. Marilyn Cronie, President, Vice President, Adelena Schaap, Secretary of WIN, Shaleen Benoit, WIN Special Event Coordinator, Ms. Leva Sonn, USM Student Administrator and Membership Coordinator, Tia Thompson, Committee Event Coordinator, Ms. Rena Bowers. Honorable Board Members: Ms. Rosette Gumbs Lake, Vice President of the French Collective', USM Board President, Valerie Giterson- Pantophlet, Founder of WIN & Director of SCELL, Dr. Natasha Gittens, Owner of Buffalo Wings, Mrs. Alyandra del Valle Rojas Orta.
If you would like further information on the Women's Island Network or SCELL, call 554-2437, email us at This email address is being protected from spambots. You need JavaScript enabled to view it., or fill in the form on our website: http://scell.usmonline.onl/index.php/contact-us.