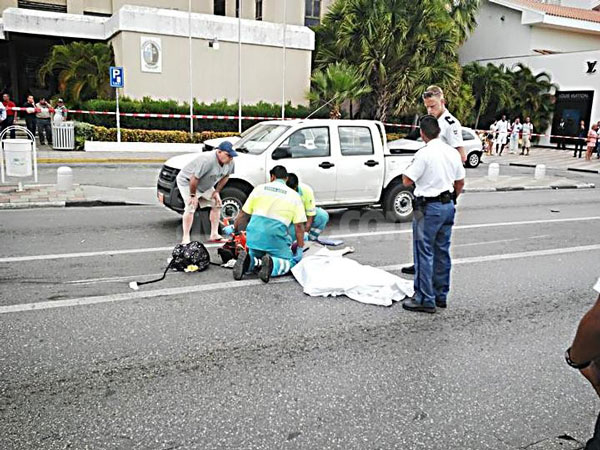 ORANJESTAD, Aruba:--- A female tourist was crushed to death on Monday by a police motorcycle. According to 24 Hours News in Aruba, the accident occurred just in front of the Customs Office on L.G. Smith Boulevard. 24 Hours News also has a large number of photos of the accident scene on their website. The officer that crushed the female tourist to death while she was crossing the street was removed from the scene by ambulance personnel. It appears as though the victim's brother was also on the scene as an older male tourist was seen sitting on the sidewalk as persons at the scene tried to comfort him while police officers were taking information from him. Other tourists that were in the immediate area seemed devastated by the deadly accident. The officer is also said to be in serious medical condition.
Translated article from 24 Hours News Aruba...
Monday afternoon reports came in of a very serious accident in front of the customs office on LG Smith Blvd. in which an officer of the motorized brigade was involved. An ambulance was sent out urgently. It turned out that a pick-up had stopped to allow a female tourist to cross and at the same time the officer of the motorized brigade was on his way to an emergency but the woman did not notice. Her brother noticed and stopped but she continued and the officer tried to avoid her but hit a car on the side, then the victim and other cars. The impact was fatal for the woman and the officer also was hurt. The woman was a German tourist visiting the island on the cruise ship Aida Luna sailing under the German flag. All the competent authorities were informed of the case and went to the site.
Prison Taken Over by Prisoners.
Also in Aruba the prisoners at the prison in Aruba managed to take over the prison operations in Aruba for about one hour on Monday. According to information SMN News received, the prisoners took over when the prison guards held a walk out protesting against certain working conditions. SMN News further learnt that a fight broke out inside the Aruba prison when the prisoners took over. Up to press time it was not clear how many prisoners and or other persons were hurt at the prison in Aruba.