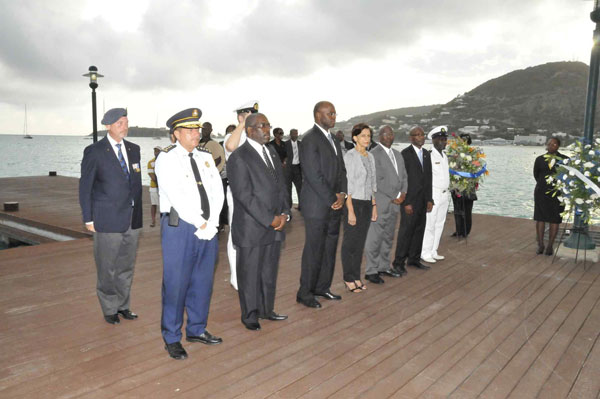 Philipsburg:--- The Prime Minister of St. Maarten the Honorable Sarah Wescot-Williams joined with numerous dignitaries and uniformed officials in commemorating National Remembrance Day 2013 last Saturday afternoon remembering fallen soldiers who fought during the Second World War.
The Prime Minister was joined by His Excellency Governor Eugene Holiday, Deputy Prime Minister the Hon. William Marlin, President of Parliament the Hon. Rodolphe Samuel, Police Chief Commissioner Peter De Witte and NA Faction Leader Member of Parliament the hon. George Pantophlet, representatives of government and uniformed officials attended the commemoration and wreath-laying ceremony which took place at the Captain Hodge's Wharf in Philipsburg.
The Prime Minister and His Excellency the Governor inspected the Honor Guard followed by a wreath laying ceremony. Two minutes of silence were also observed in honor of those who gave their lives during the Second World War, which started in 1939 and ended in 1945. Approximately 50 to 70 million people lost their lives making it the deadliest conflict in human history.
From the Cabinet of the Prime Minister