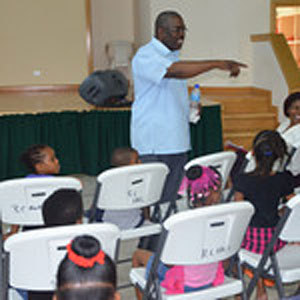 PHILIPSBURG:--- President of Parliament Hon. Drs. Rodolphe Samuel recently addressed the Catholic La Salette Youth Prayer Group.
The Catholic Church prayer group meets every 1st and 3rd Saturday to pray and discuss religious issues such as the Lady of La Salette. They also learn more about the Catholic faith and Catechism. The age range of the group is from four to 18.
Professionals from the community are invited to speak with the prayer group to share their knowledge and experience with the children. The children are also taken on excursions.