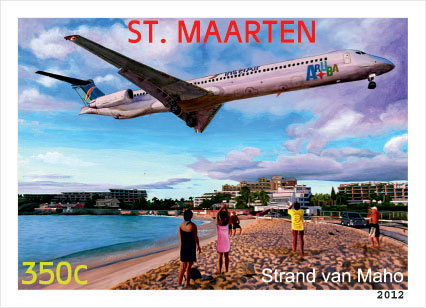 Philipsburg:--- Postal Services St. Maarten NV is busy producing and will be introducing a number of scenic stamps of the island this year, and with the scenic theme will be in Dutch to cater to the huge dutch stamp collector market. Due to delay in production, both the 2012 and 2013 scenic sets will be featured and offered in 2013. The scenic set of stamps for the two years combined will feature eight (8) different scenes of the island. Snapshots were taken from different locations on the island and artist impressios made. As with the hero stamps edition, PSS is hoping with these stamps to further promote and share the beauty of our island to all corners of the world and get both young and old interested in stamp collection. The scenic stamps are in production and will be available within short at our post office to compliment the existing series of stamps.
PSS would like to remind the general public of the themes for the year 2013, which will feature: Churches, Birds, Heroes, SXM Scenes, Butterflies, Boy Scouts, 200th Anniversary of the Dutch Kingdom, Classic Boats, Light houses, Chess and Classic Paintings.
PSS is urging all stamp collectors, local and abroad, children and adults to come by and view what all stamps PSS has available for purchase and be the first to purchase and collect these one of a kind of stamps.
Mr. Richardson and the postal service family (PSS) looks forward to the feedback and comments from the public, and remains open to possible new themes and designs to further to promote what our beautiful island has to offer. Stamps are true ambassadors to a country, and through creativeness PSS hopes to keep its stamps around for a very long time.
For more information please contact your local post office at Tel. 542-2289 or 545 3782 or by e-mail: This email address is being protected from spambots. You need JavaScript enabled to view it..

PSS Press Release