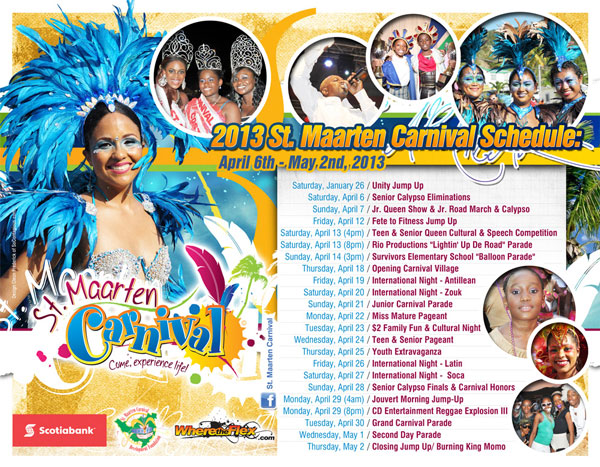 PHILIPSBURG:--- The St. Maarten Carnival Development Foundation (SCDF) has launched the official Carnival 2013 calendar of events which, as the SCDF put it, "takes over" the entire month of April 2013. Sponsored again by long time partner Scotiabank and boasting its new branding logo and slogan "Come, Experience Life", Carnival festivities start as early as April 6, 2013.
The format of the schedule deviates from the customary vertical layout, to a horizontal one, giving the SCDF a little more room for design aspects.
Though Carnival doesn't officially open with the opening of Carnival Village on April 18, the SCDF and its stakeholders and partners has a number of events scheduled prior to the opening of the Village.
The official dates of Carnival 2013 run from April 18 until May 2, when King Momo is burnt. The schedule features five jump ups, three parades, five international concert nights, seven local nights including all four Carnival queen pageants and the biggest local night, the Senior Calypso Finals.
Carnival 2013 will also feature a US $2 Family Fun and Cultural Night with the intention to showcase several cultural acts on in the main stage in Carnival Village while children bouncers and other playful materials fill Carnival Village.
Also on the scheduled are two events not hosted by the SCDF, but supported by the foundation as parts of Carnival. On April 13, Brenda Wathey and Rio Productions will take to the road for the second annual "Lightin Up De Road" lighted parade, which was a major hit last year.
The following day, April 14, Jasmine Philips and Survivors will host for the first time an elementary school balloon parade. "It's important that we get children involved in Carnival through positive Carnival related events, so it's a great initiative by Survivors to host this event," President of the SCDF Mike Granger said.
The international shows are a mix of music genres. Carnival Village kicks off immediately with an Antillean concert on April 19, followed by a Zouk and Compas Concert on April 20. There will also be a Latin Night, a Soca Blend Night and a reggae night by Clarence Derby's CD Entertainment. Derby will stage "Reggae Explosion III" to re-enter the Carnival concert promotion arena after being out a few years.
"In general we are obviously very happy with the lineup and we hope all carnival lovers will be as well. We have gone through months of negotiations with promoters and other stakeholders. We opened registration since September 2012 and closed on December 1, 2012 and we're pleased with registration figures though some shows, such as the road march and soca monarch did not draw sufficient registration to warrant a full show."
Other than that, we have a very exciting schedule of events, we have basically taken over the month of April 2013 for Carnival and we aim to have a fettin' good time," Granger said.
He went on to heap praise on Scotiabank for once again partnering with the SCDF in producing the calendar. "It's always good to have committed corporate sponsors that you can count on. Scotia has been a loyal partners for many years and we are very happy that the bank has decided to once again show its belief in our festival," Granger said.
The SCDF will be "rolling out" several items regarding Carnival 2013 over the next few days. "This is just the beginning," Granger added. SCDF can be contacted by emailing This email address is being protected from spambots. You need JavaScript enabled to view it. or calling 5225133. The carnival schedule will be distributed and/or published island wide, regionally and internationally.