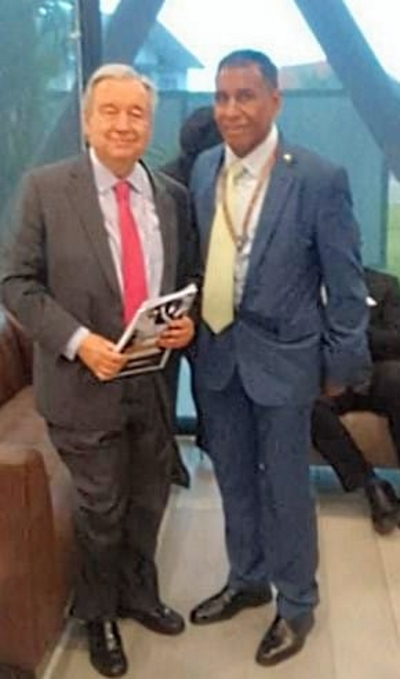 PARAMARIBO:--- James Fines, president of Nos Ke Boneiru Bek, and Davika Bissessar, president of Bonaire Human Rights Organization held an important private meeting with the Secretary-General of the United Nations Organization (UN), Antonio Guterres, were explained the apartheid situation that Bonaire is experiencing, where the Kingdom of the Netherlands (Holland), has violated the territorial status of Bonaire. Violating the human rights of the people, destroying their culture, identity, and language,
seizing their natural resources, degrading a great nation like Bonaire to a public entity, in clear violation of international law, while promoting new forms of recolonization, by sending Dutch people who acquire citizen rights and voting rights after three months of inhabiting the country Mr. Finies informed the Secretary-General of the United Nations that today in Bonaire, the Kingdom of the Netherlands not only controls the land, the wealth, and the government but also a discriminatory social structure prevails, typical of that Dutch colonialism that so much damage caused humanity in the 16th to 19th centuries. "The local population of Bonaire has been reduced to less than 40 percent. In a few more decades we will have disappeared as Bonerians as a result of the recolonization policies implemented by the Kingdom," Finies warned.
Within the framework of the 43rd Meeting of CARICOM Heads of State and Government, held in Paramaribo, James Finies denounced the policy of harassment carried out against him by the Kingdom of the Netherlands, which he blamed for any attempt on his life. "My fight for the rights of the people of Bonaire is peaceful and will always be so," Finies reiterated.
A question that was raised many times by the leaders at the CARICOM meetings to us, what does Holland have to gain?.. we informed, 200 nautical sea miles of the Exclusive Economic Zone of the Caribbean Sea to exploit all its natural resources.
James Finies delivered to the Secretary-General of the UN, a complete report on the situation that Bonaire is experiencing, as well as the study "Assessment of self-governance sufficiency in conformity
with internationally recognized standards: Country Bonaire", prepared by Dr. Corbin and the Dependency Studies Project, which establishes and conclude..... that any projection of Bonaire as a model of democratic governance is illusory at best... deficient by all measures of democratic governance. However, whilst colonialism remains illegal, its illegality is often a matter of power, not justice.
Mr. Finies thanked Guterres for the space provided and acknowledged the interest in the Bonaire Case and the political will shown by the Secretary-General of the United Nations, a man committed to peace and international law.