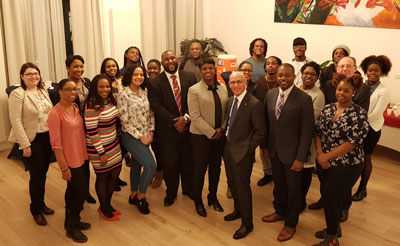 THE HAGUE:--- On Friday evening a group of Sint Maarten students including youngsters that evacuated from Sint Maarten after the passing of Hurricane Irma, were invited to come to the Sint Maarten House in The Hague. Prime Minister Leona Romeo-Marlin & Minister of Finance Michael Ferrier wanted to inform the gathering of what could be considered as an extremely positive outcome of their visit to the Netherlands.
During the short presentation, Prime Minister Romeo Marlin emphasized to the students the importance of returning home once they have completed their studies. "It's a pleasure to see students being interested in what's going on in Sint Maarten and taking the opportunity whenever a Minister is present, to come and be informed." The Prime Minister gave a brief summary of her activities while in the Netherlands including meetings with Prime Minister Mark Rutte and State Secretary Raymond Knops. Prime Minister Romeo-Marlin continued by encouraging the students to focus on their studies, getting the necessary experience, but to come home because "home needs you, especially now!"
Minister Ferrier when addressing the gathering told them, "We are resilient... we are a proud people; we do not wait for others to start to help ourselves, we just go! When bad things happen, you must dust yourself off and keep going! Be passionate about what you do and know your limitations. Be the best you can be in whatever job you land. "
In conclusion, the students and youngsters were treated to prepared snacks and drinks and they had an opportunity to network and interact with the Ministers present by exchanging their thoughts, personal experiences, and ideas.