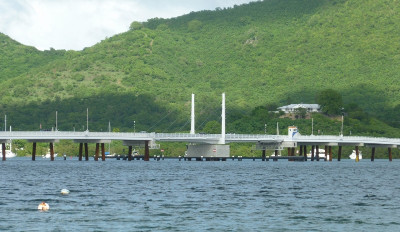 SIMPSON BAY:--- The Simpson Bay Lagoon Authority (SLAC) announces that the Simpson Bay Causeway Swing Bridge has been repaired and resumed daily bridge openings for vessels on Tuesday, November 21.
The swing bridge daily opening times are 8.00AM, 10.00AM and 3.30PM.
An operational assessment of the Causeway swing bridge was carried out last month by engineers from Hollandia.
The swing bridge which falls under the Lagoon Authority has been open to limited marine traffic since the passing of Hurricane Irma on September 6.
The Swing Bridge on the Causeway is 220 feet long and weighs 450 tons. The Causeway has a total length of 2493 feet and features a two-lane motorway, a bicycle track, footpaths and two round-a-bouts at the Airport Road near the end of the runway and at Union Road near the border.