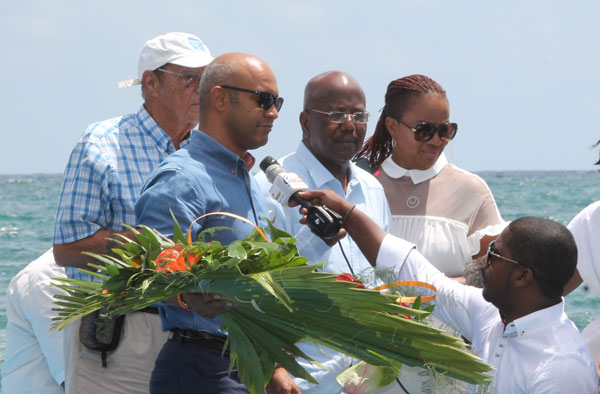 FRENCH CUL DE SAC:--- On Sunday, May 7th Prime Minister The Honorable William Marlin & Minister of Education Culture Youth & Sport The Honorable Silveria Jacobs attended the annual Fish Day Festivities in French Cul-de-sac.
President of the Collectivite of St. Martin Daniel Gibbs, during the Opening Ceremony for Fish Day, thanked both Ministers representing the Government of St Maarten for their presence at the event. In his opening remarks, President Gibbs outlined the importance of the agriculture & fisheries sectors as important industries to help stimulate economic activity on French St. Martin.
As part of the Opening Ceremony for Fish Day Prime Minister Marlin & Minister Jacobs were invited to accompany President Gibbs and other invited guest aboard a traditional fishing vessel to lay a wreath at sea. The traditional laying of the wreath at sea, is in honor of fishermen that have passed away and who contributed to the establishment of the fishing tradition and industry on French St. Martin. Resident of French Cul-de-sac Mr. Laurence was also onboard the fishing vessel and read the names of the fishermen before the wreath was laid in the waters.
The Fish Day Opening Ceremony concluded with a traditional seafood breakfast which included salt-fish & baked journey cakes with bush tea and fresh local juices.